$40.00
Stop wasting your money on charging cables that don't last. Meet the ZUS Super Duty Cable, the world's first aramid fiber cable that can bend over 15K times and comes with a lifetime guarantee. 
Choose between lightning (for Apple devices) and micro usb (for Android). Both cable types come in two different USB plug styles: the standard straight USB plug or a right angle plug.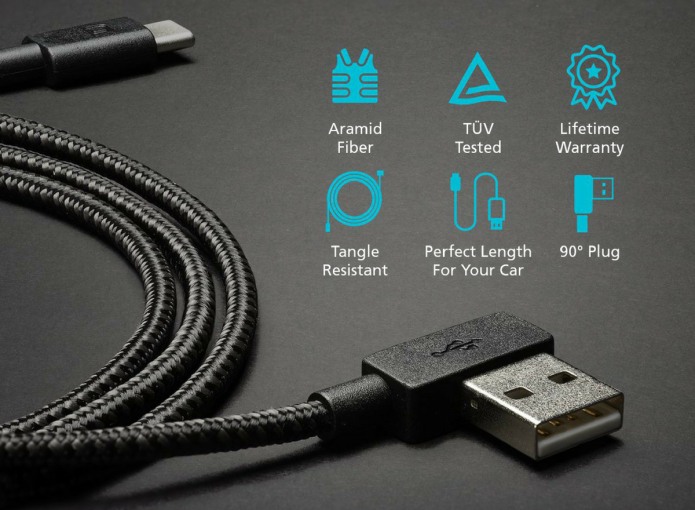 The Most Durable Lightning Cable
The ZUS Cable is aramid fiber reinforced for superior strength. 
What is aramid fiber? It's the stuff that bulletproof vests are made of. It's the stuff that allowed Curiosity to survive 65,000 pounds of force on its descent to Mars. With aramid fiber, the ZUS Cable can handle being crushed or tossed around.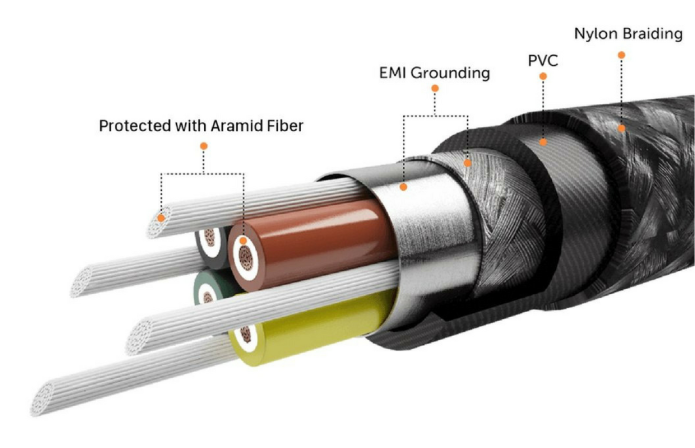 TÜV Tested Cable
In a third-party test conducted by German test lab, TÜV, the ZUS Cable bent over 15,000 times, that's 50% more than the more expensive brand Belkin.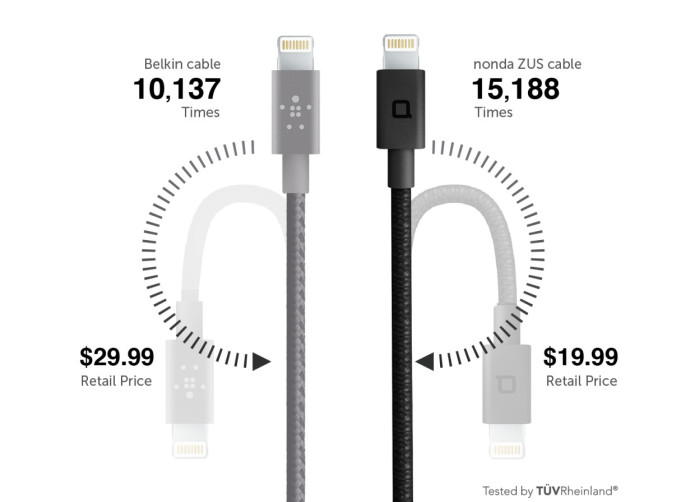 Tangle-free Cable
The tough nylon braiding material keeps the ZUS Cable inherently tangle-free. Each cable also comes with a complementary velcro tie to keep things further organized.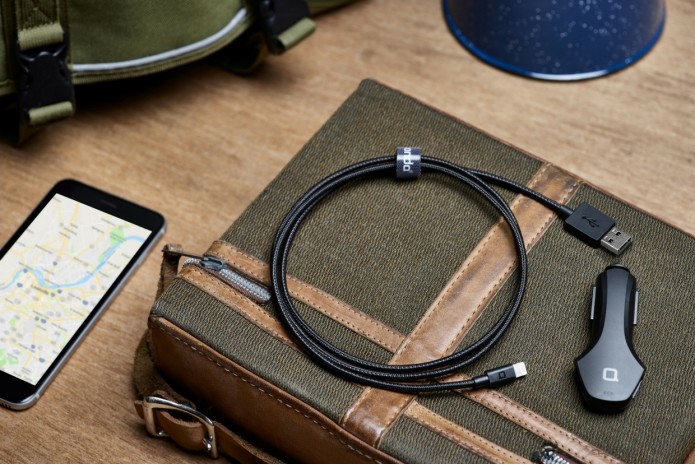 Perfect Length 
We found that 4 feet (48 inches or 1.2m) was the perfect length for charging inside your car. 40 to 46 inches is the typical length needed to charge your phone that's mounted on your car's window or dashboard.
Most other cables come in 3 feet or 6 feet, so they are either too short or too long. The ZUS Super Duty Lightning Cable gives you just the right reach.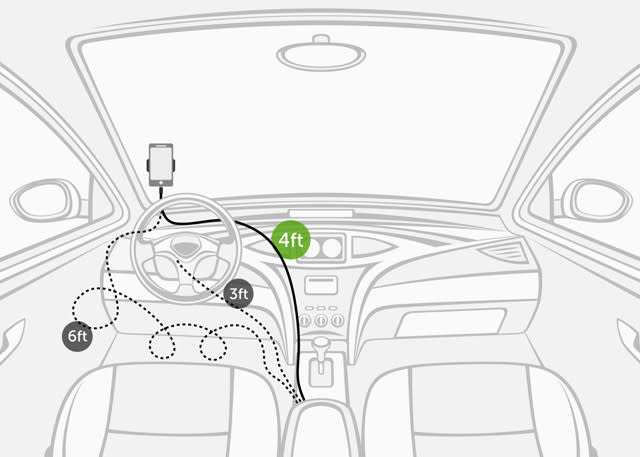 What Our Customers Are Saying...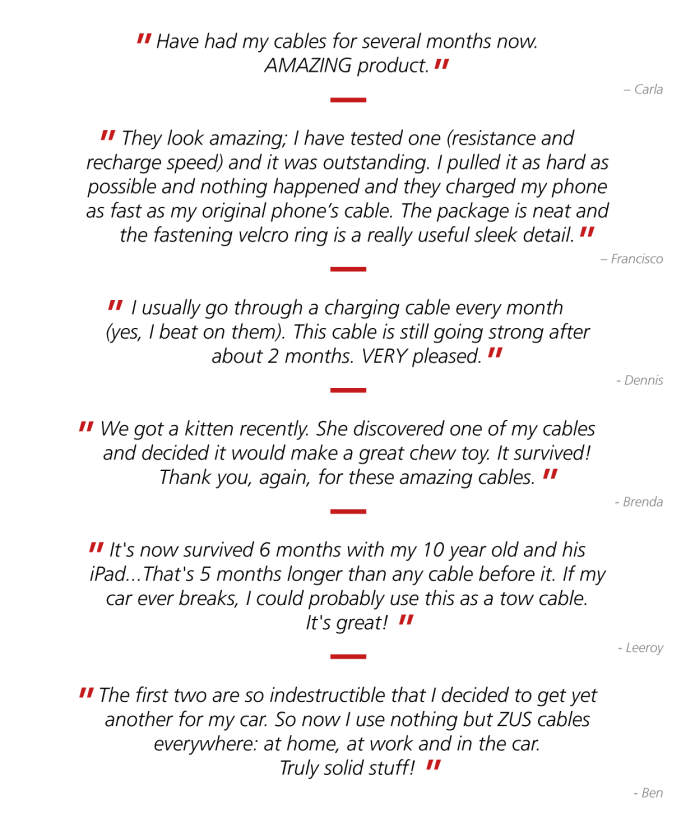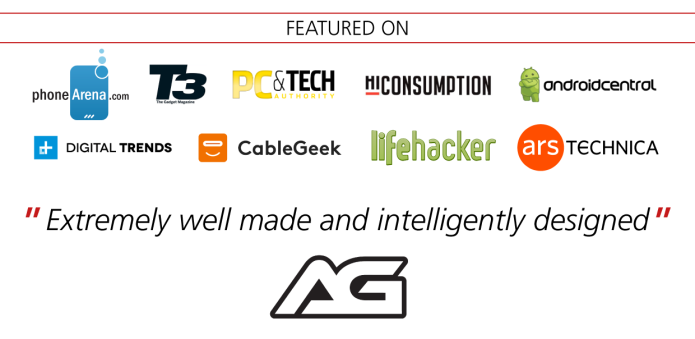 Product Specs
Our ZUS Super Duty Lightning Cable is Apple MFi Certified for:
iPhone X,  8/8 Plus, 7/7 Plus, SE, 6S/6S Plus, 5/5S/5C
iPad Air/Air 2, mini, Pro
iPod
Our Micro USB cables are perfect for Android devices:
Samsung, Kindle, HTC, Motorola, Nexus, Nokia, LG
Other Micro USB devices
FAQ's
What cable options do you offer? 
We offer lightning cables for Apple devices and micro usb cables for Android. After choosing your cable connector type (lightning or micro usb), you can choose your USB plug style - either straight or right angle.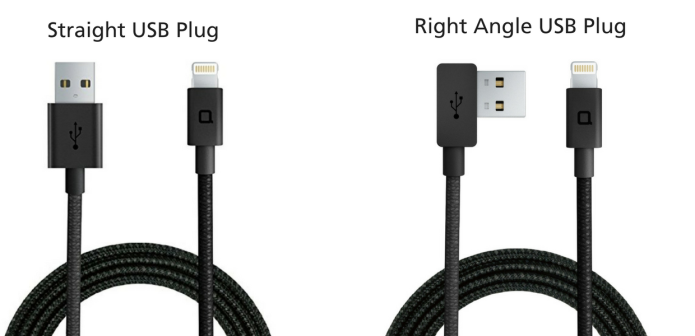 I'd like to buy 5+ cables and combine my shipping costs. How to do so? 
Indiegogo currently does not offer a quantity selector tool. If you'd like to buy more than 4 cables, please visit our official webpage here: https://goo.gl/uS19VP
What is the warranty?
With our Limited Lifetime Warranty, if your cable breaks from normal wear and tear and is no longer functional, we'll replace it.