$119.00
Plug into your backpack. Any time. Anywhere.
With a built in Solar Fabric that can take rain, dirt, and even impact, the Lumos Thrill seeker is perfect for trail rides and tours. The Solar Fabric can charge any battery bank through a standard USB port built inside the bag .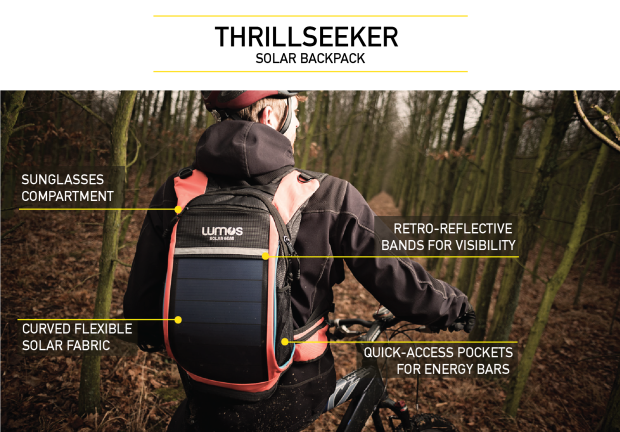 This 12-liter hydration bag has been designed for great stability and clings to the wearer even during the roughest of trail rides. The bag can hold up-to a 3L hydration bladder (bladder not included). The backpack features adequate reflectors for safety and cross-straps for weight distribution. The bag is water-resistant and ships with a fluorescent green rain cover.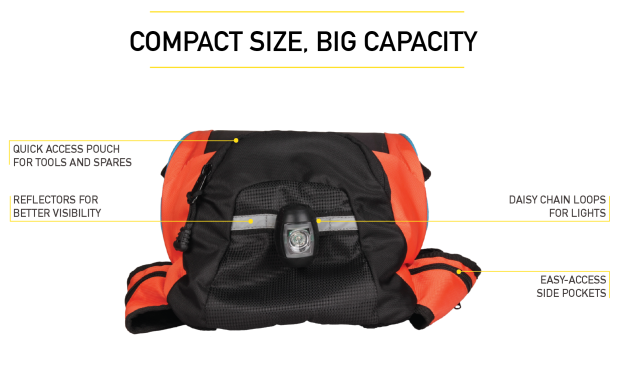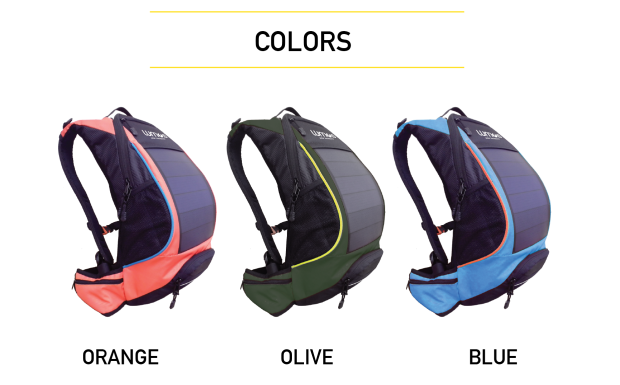 PRODUCT SPECS
Weight: 0.8 kg                                                               Volume: 12L
Dimensions: 23 x 12 x 42 cm                                    Materials: Polyester          
Solar Fabric: 3W (5V, 600mA)                                Hydration Capacity: 3L Bladder (not included)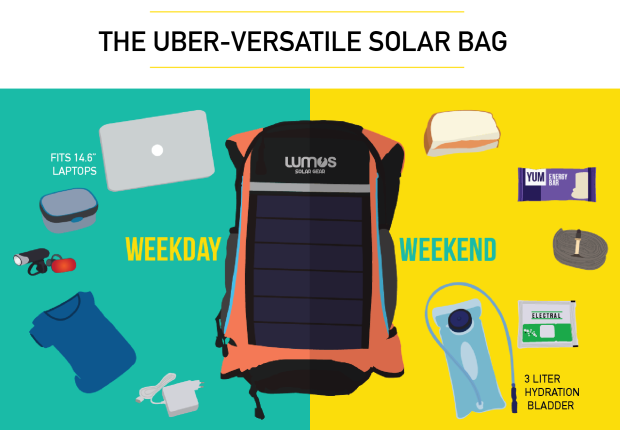 THE COMMUTER
"Love this backpack. The solar charger works well, if a bit slowly. But I leave the pack in the sun at my office cubicle, so it's got time to charge. Pack fits a laptop, and lunch. Not super big, but in my opinion, just right. Small zip pouches on the straps, and beautiful build quality." 
- Shilov, 30 November 2016
COMMUTE + WEEKEND RIDER 
"I use my bicycle for daily commutes and I'm also a hardcore mountain biker. I have been using this bag since a few weeks and I'm highly happy and satisfied with it!" 
-Ashishashen, 26 May 2015
BIKE-TOURER
"That orange Thrillseeker bag was my constant companion over 10 months and 20,000 kms. It carried my most important possessions – Camera, wallet, Money, ID cards- and was almost like a second skin. I put it thru' hell, and still it lasted a while in ten months of southern heat, northern cold, a glacier, treacherous forest treks, torrential rains of East and a desert of West." -Mohammed Izhaar
About Us
We've successfully delivered solar-powered cyclist backpacks (the Lumos unPlug Solar Backpack and the Lumos ThrillSeeker Solar Backpack) across 16 countries over the last 3 years. In fact, the ThrillSeeker was voted by BikeMagazin.de as one of 15 innovations to watch out for at EuroBike! 
FAQs
Can the Solar Panel handle rain and dust?
Yes, The Solar fabric is meant to be outdoors and can handle rain and dust quite well.
Can the Solar Panel handle impact?
The Solar panel can handle limited impact. Since it is flexible, and has been manufactured on a fabric substrate, the Solar fabric can absorb and transfer impact quite well.
How much charge would I get?
This would depend on the sun-light. The core function of the backpack is to provide a back-up charge by charging your battery bank. One hour of light will give you enough to charge a 2000mAh phone by 15%. However, bike lights (and GPS devices) will get charged by higher levels since they have smaller batteries. Please DO NOT charge your phone directly - use a battery bank in between. 
What devices can I charge with the backpack?
The backpack supports an industry-standard USB 2.0 interface. Thus, it can charge most battery banks. 
Is the backpack water-proof?
The backpack is made of PU-coated Polyester. The flap-based design further allows the rain to roll off the surface of the backpack, as opposed to other backpacks where zippers are a vulnerability. If the backpack is closed properly, The backpack is designed to handle up to 7 cms of rain. However, the backpack also ships with a fluorescent green rain cover that can be used during heavy rains.
What is the warranty on the bag?
The backpack ships with a one-year replacement warranty.
What is the life of  the Solar Panel?
The solar fabric is designed to last for 8 years, after which its performance is expected to start deteriorating.