$120.00
INTRODUCING GOLUK T3, THE ULTIMATE CAR DASHCAM

Goluk T3 in Fire Red, Stone Grey and Charcoal Black
EXCELLENT VIDEO QUALITY

T3's specifications, such as F2.0 large aperture, non-spherical high-definition lens combined with advanced number plate recognition technology and high dynamic range (WDR) imaging, allow the dashcam to record clear video images in various light-conditions. 

Direct sun shine or bright head-lights, extreme shadow or low-light conditions - T3 will adjust to your needs and take the best video image possible.

Wide Dynamic Range - Goluk T3

In contrast to the 2 previous product generations, the brand new T3 is equipped with Panasonic low-light image processor and a super-capacitor, which ensures that your videos are saved in case of power breaks. 

141° wide-angle ensures comprehensive capturing of traffic events and covers side lanes. 

INCONSPICUOUS COMPACT DESIGN

T3's Matte Grey, Red or Black design, cylindrical shape and tiny size make the dashcam blend seamlessly with your car's interior.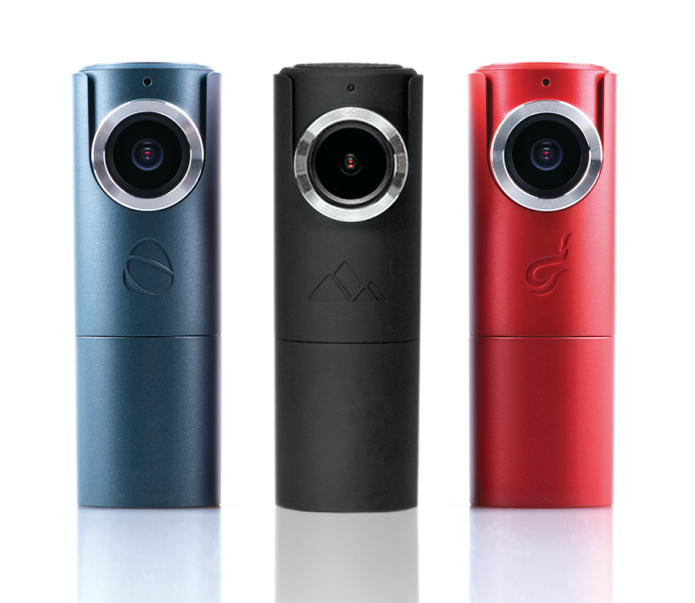 Using Goluk T3
Protect yourself from unnecessary insurance disputes by having a clear footage of the event. Using its G-sensor, the T3 automatically back-up a 16s video clip and saves it to your phone's storage. Be prepared!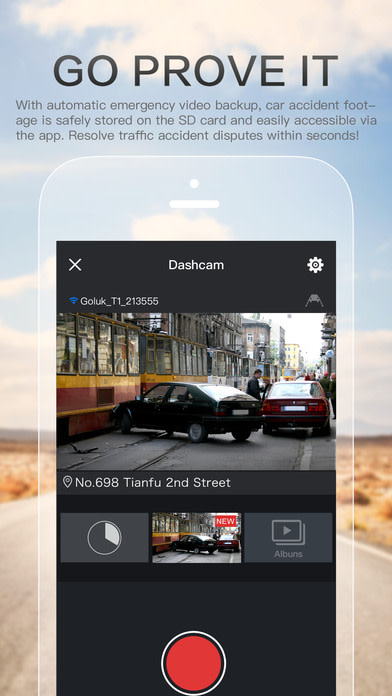 Share your videos to your social media networks quickly and easily. Turn the T3 to face inside or outside the car and snap videos using your remote controller. Access the videos via Goluk free app anytime, edit them by combining different video clips, adding filters or music and share the clips to your social media or simply send to your friends via WhatsApp.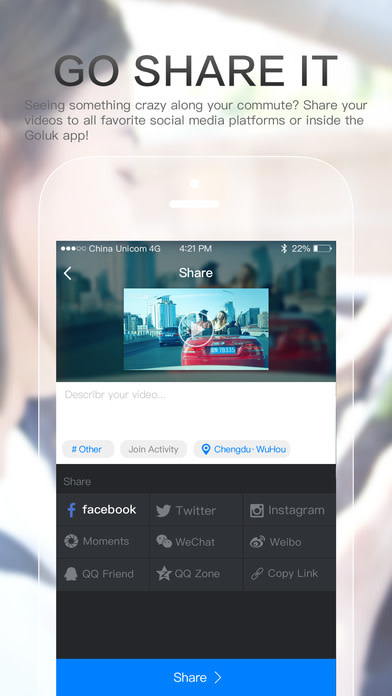 Turn Goluk dashcam into an action camera with additional accessories. Goluk T3 is not just a dashcam, it can also serve as a sports camera when paired with Goluk's smart charging holder for outdoor recording. Whether you're taking a bike trip or going on a hike, always take your Goluk T3 with you!
Package Includes
1 X Goluk T3 dashboard camera
1 X Toshiba 32GB SD (TF) card
1 X Docking station
1 X Wireless remote/MagicKey
1 X Vehicle power adapter
1 X Micro USB power cable (4 meters long)
8 X Cable routing clips
3 X 3M adhesive pads
1 X User manual
FAQs
Q: How long can 32G TF Card store?
A: Storage time of 32G TF Card is from 6 to 8 hours.
Q: Temperature range? Why is it so hot?
A: Temperature range is from -4℉ to 158℉. The camera passed the authority test of high temperature, aging, and beating. To test it, we put the camera in the high-temperature oven of 167℉ for 8 hours a day for 2 months.
Q: What is the camera's video quality?
A: The video is divided into the mainstream and substream.
Mainstream for full HD 1080P refers to videos in the memory card. It requires a clear picture quality. It is mainly used to record images, emergency videos, and videos of the parking security mode. The storage of a 3-minute looping video is about 190MB, a 12-second video is about 12MB. 
Substream for 480P refers to short videos for preview, sharing and live streaming. The storage of a 12-second video is about 1.5MB to 2.4MB.
Q: Is the companion app only on iOS or also available for android?
A: Goluk APP supports the two major platforms─Android and iOS.
Q: With a 64 GB ad card, how long will it record for before it starts to erase stuff and record over it?
A: With 64G SD card, Goluk will perform continuous-loop recording for about 8 hours for 164 segments (3minutes per one) (occupying 75% of the card storage). When the recording continues beyond 8 hours, the earliest 3-minute segments will begin to be overwritten by new videos.
Q: Is this solar charging or wired charging?
A: It is wired charging. If you wish to use it without a cable, you can purchase our Smart Holder, a wireless charger for Goluk T1 dash cam.
Q: Can the iOS app connect to more than one camera? I have two cars!
A: Yes, one smartphone can control two Goluk (Cameras), but you will need to enter password 123456789 for one of them to build the connection when you use it. Or you can buy one Goluk with 2 sets of accessories. Every time you change your car, you can remove the camera from the docking station and install it in the other car.
Q: How to upgrade firmware?
A: Download the firmware to the phone——>Synchronize firmware to Goluk hardware——>Firmware Upgrade
1. The client detects firmware upgrade (you'll get a pop-up message in your app) and downloads camera firmware version. At this stage, it's a normal download. If the network gets interrupted, you will have to download it again.
2. Next, the upgrade files are downloaded to the camera; if the camera gets disconnected from the phone, the camera will automatically restart. After the restart, the firmware upgrade will start again.
3. Lastly, the camera upgrade file is written to the camera flash; if the connection of the camera and phone is interrupted at this point, the camera will continue to write flash.
(Special Note: Do not shut off the power during firmware upgrade.)