$169.00
Loctote Industrial Bag Co. designs anti-theft bags that are tough, functional and stylish in pursuit to allow you to live more and worry less. Our lockable bags are like portable safe for your valuables. Simply lock the bag closed and to any secure object - and leave it without worrying about it being tampered with, damaged, or stolen. This bag doesn't just carry your belongings, it protects them. As seen on Shark Tank!




Bags that everybody, at some point in their life, wishes they had.  Elegant in its simplicity and unapologetic in its brutal effectiveness. Sometimes you just need a safe place to put your personal items and valuables while you focus on something else. Our purpose for creating this bag really is that simple.
When you start with a blank sheet of paper you get to re-think everything. That's what we did with this bag. We considered the best way and the best materials each step along the way. We did things to test our bags that didn't make our moms proud (and possibly violated a few city ordinances). Good enough wasn't good enough. We saw beauty in strength and elegance in simplicity. We got in touch with our softer side, and we kept innovating until we got it right. At the end of it all, we created a product that we think will blow your mind.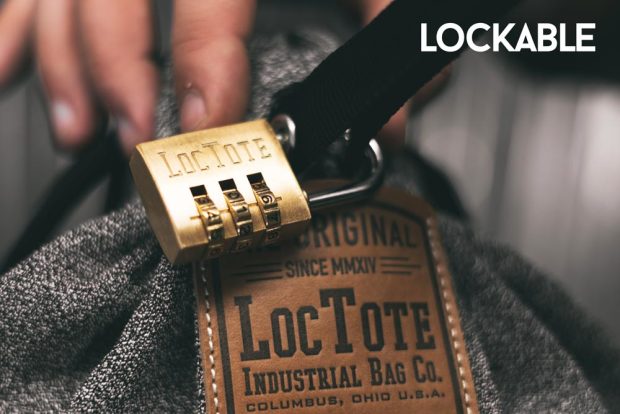 Pull it, lock it and leave it. It's that simple. The secret is a patent-pending locking strap and heavy-duty solid brass and hardened steel lock that enable you to lock your bag shut, and to a fixed object. The flexible cut and break resistant tubular nylon lock strap is reinforced and grommeted with custom stainless steel components and 49 strands of stainless steel wire, making it nearly impossible to cut, break or tear without extreme force or heavy tools. This strap resides in a hidden channel constructed between the layers of the extreme cut resistant fabric, where it remains out of sight and out of they way until you need it. The lock itself also stores securely and out of the way behind the leather LOCTOTE logo patch.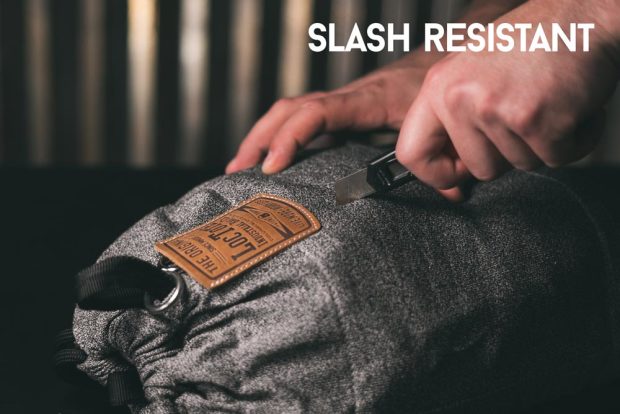 The Flak Sack is crafted from a double-layer of the ultra cut resistant fabric. Woven from a proprietary blend of high molecular weight polyethylene (HMWPE) and other state-of-the-art fibers, the fabric was originally developed for use in high performance body armor and personal protection under-garments for law enforcement, corrections, and security workers. Our bags have the highest possible Blade Cut Resistance, Tear Resistance, and Abrasion Resistance ratings based on international (ISO) and European (EN) standards. 
Simply put, no fabric available today is absolutely 100% cut-proof. If it was, you wouldn't be able to make anything with it. Our bags are the most cut resistant you will find in the market, and it takes very specialized equipment to make them. To a thief, it's not worth the trouble.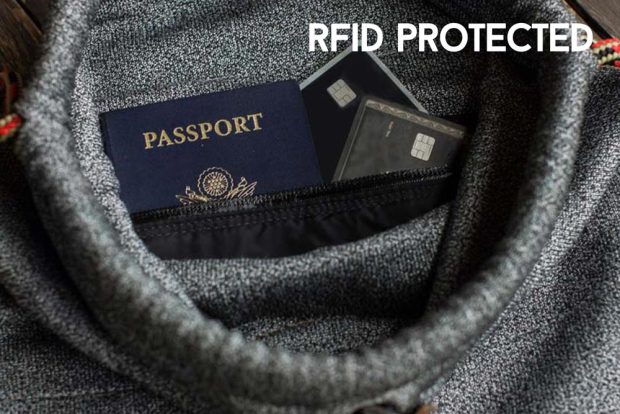 As RFID radio transmission technology is becoming increasingly widespread in passports, credit cards, debit cards, identity cards, key cards, and access control cards, the risks of "electronic pick-pocketing" (identity and personal data theft, payment fraud, and unintentional contactless payment) are on the rise. Without shielding, unauthorized parties can read the data stored on these items with the aid of an RFID reader, from a distance without any direct physical contact. Each LOCTOTE™ bag comes with a large water resistant internal pocket lined with a patented FIPS 201* certified RFID blocking material which is approved by the US Government for effectively shielding all contactless credit cards, passports, drivers licenses, ISO 14443A/B and EPC Gen1/Gen2 contactless smart cards that operate at 13.56 Mhz and above (13.56 Mhz interface is the one that typically contains personal data).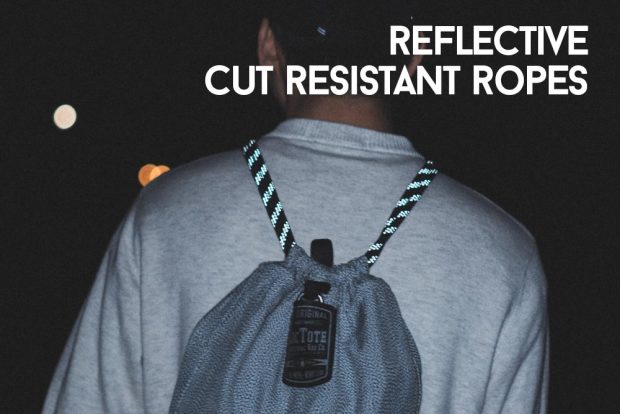 We created a rope unlike any other on the Flak Sack SPORT — cut resistant Ultra High Molecular Weight Polyethylene (UHMWPE) core, covered with a soft nylon braided outer sheath, interwoven with a highly-reflective material for night visibility. Even though we hope no thief ever tries to cut this bag off your back, it's nice to know they won't be successful.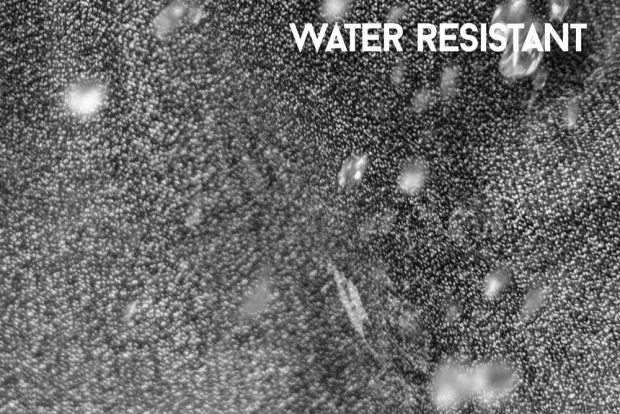 Rain, spills, splashes, puddles, high-tide, and general carelessness are the enemy of your small electronic devices and leather goods. Each LOCTOTE® bag is treated with an industrial water and stain repellant coating, and comes equipped with a large (capable of holding an iPad Mini) water-resistant interior pocket.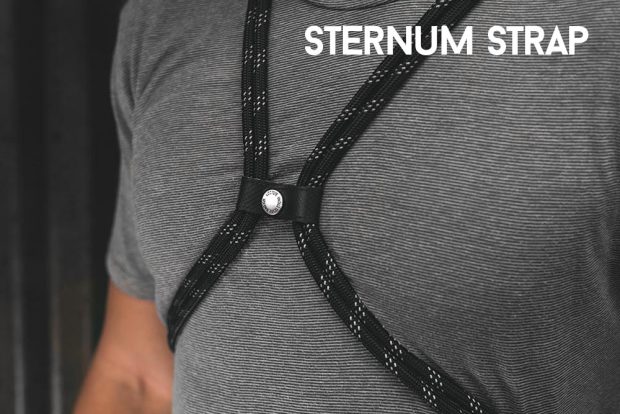 Our custom matched sternum strap gives you that extra bit of security and comfort. By keeping the ropes centered across your chest, the bag stays secure with its weight comfortably distributed across your shoulders.  It's there when you need it, and removable when you don't want it hanging around.