$169.00
We're creating a new way of thinking about travel bags: bags that are functional, durable, and beautifully designed to protect your belongings in style, no matter where you go. Our crossbody lets you go about your day with peace of mind knowing that your belongings are protected from theft and water. 
Features include a waterproof nylon exterior and waterproof zippers, a slash-proof fabric that lines the entire body of the bag, RFID blocking material in the built in wallet, locking zippers to keep pickpockets out and chain straps that won't be cut off by a thief. 

Smarter Travel's 2017 Best Overall Travel Product for both Editors' Choice and Readers' Pick. As seen in CNN Wandermusts, USA Today, and Silicon Valley Fashion Week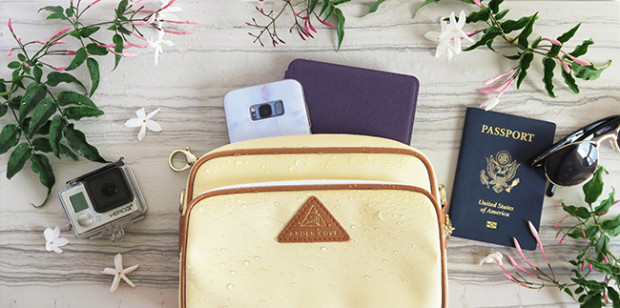 How does the Anti-theft Waterproof Crossbody work? 
Waterproof body and zippers makes the bag perfect for carrying during the rainy and snowy season. Or, that unexpected spill of a drink- Whew!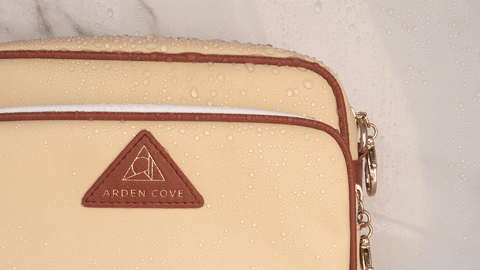 Many safety features keep wearers safe from pickpockets and theft during travel or everyday, such as locking zippers and slash resistant lining.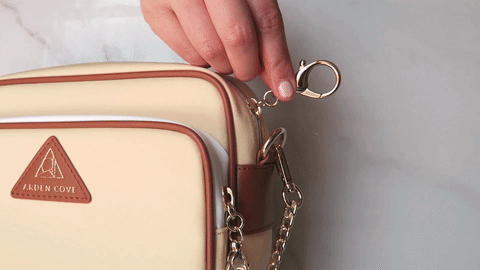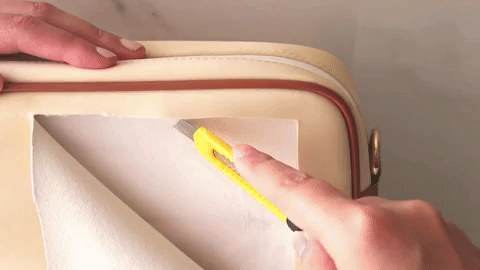 RFID-protected built in wallet protects from electronic theft while providing organization and cutting down on the items you need to pack when traveling.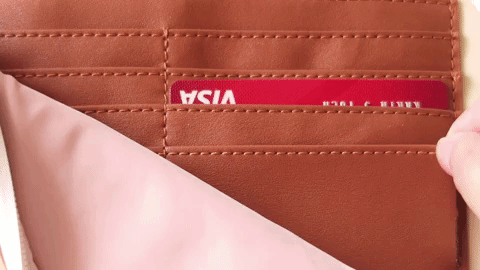 Features
Full Size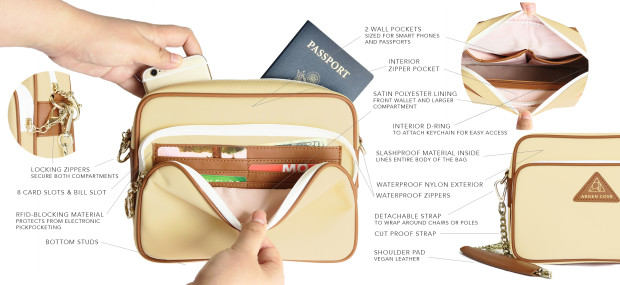 Mini Size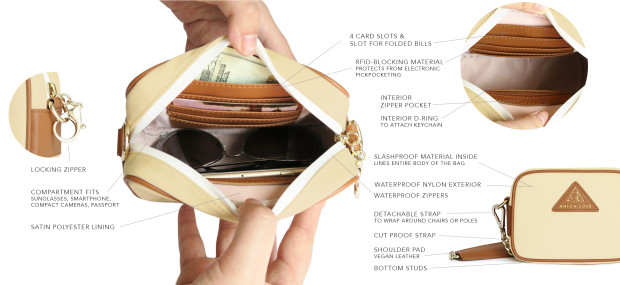 Fully waterproof exterior & zippers 
Full body is 100% lined with anti-slash material 
Locking zippers on all compartments
RFID protection in built in wallet 

Full size has 8 card slots & bill pocket
Mini size has 4 card slots and pocket for folded bills

Surprisingly roomy interior in a compact size

Full size has an interior zipper pocket and two wall pockets provide organization. Built in wallet in the front flat pocket.
Mini has one interior zipper pocket

Cut-proof strap 
Detachable strap to wrap around chair or pole (ex. at a busy restaurant where you might not have 100% of your focus on your belongings)
Interior D-ring to attach keychain 
Bottom studs to protect base of the bag
Materials

Our high quality and specially sourced materials differentiate us from competitors. Take a look inside in this video!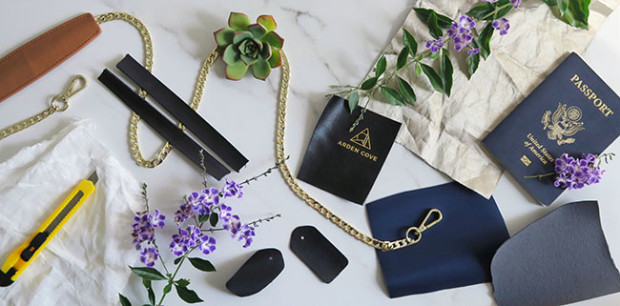 Arden Cove vs. The Competition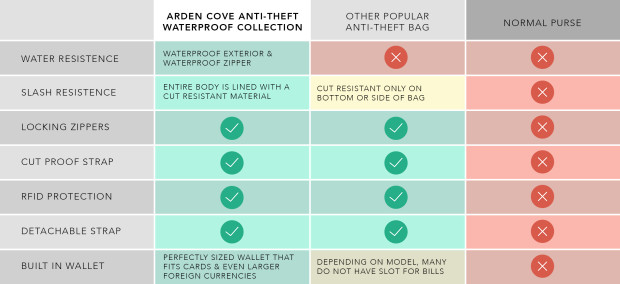 What our customers are saying
"I have never been so happy with a "travel" cross body bag. Most travel bags are functional and carry all that you need. However, they are not "stylish" nor are they something that you would want to carry on a nice dinner out while traveling. The Arden Cove bag(s) defy the typical travel bag mold and give you a bag you can use during the day AND at night. Talk about cutting down on what you need to pack!"

 - Amy
"I love all the safety features and I was so excited to find a safe travel bag that didn't look touristy! The bag looks exactly like the pictures, but I was pleasantly surprised that it was a bit bigger than I thought, It fits a small camera, phone, 600ml water bottle in the main compartment with plenty of room to spare. I'm actually going to use it as my carry on because it fits everything!"

- Hannah 
"I found the Arden Cove site online after being disappointed with the travel safe bags I could buy locally. (They did the job but were not stylish-even for an older traveller like me!) I am really happy with the quality of the bag...The full-size bag is perfect to hold my iPhone, iPad, sunglasses and even a small water bottle -as well as makeup tissues etc that always inhabit my bag. I can't wait to use my bag while traveling through Europe later in the year. I think I will have to buy a bag for each of my daughters who also plan to travel OS in the near future. So cute!"

- Bernardine

"I like all of the pocket and slot options, but I also like that the interior of the bag doesn't feel micro-managed. There's plenty of open space for me to figure out my own organization strategy."

- Kat

"Every detail was thought out, from the matching inconspicuous zipper closures to the beautiful lavender color interior and interior French seam detailing. Also, like a luxury boutique the fabric samples of the bags color were included. Brilliant! The outer fabric quality is excellent, not flimsy and I like the bags structure and its substantial feel. I am very happy with the lobster claw clasp security feature, it is easy to use and it blends in so well with the gold chain detail that you cannot even tell if it is locked. The bag has a very minimalist look to it and I like that very much."

 - Rochelle
Two sizes for each occasion
               Full Size $129                                       Mini $99                           Combo (Full+Mini) $199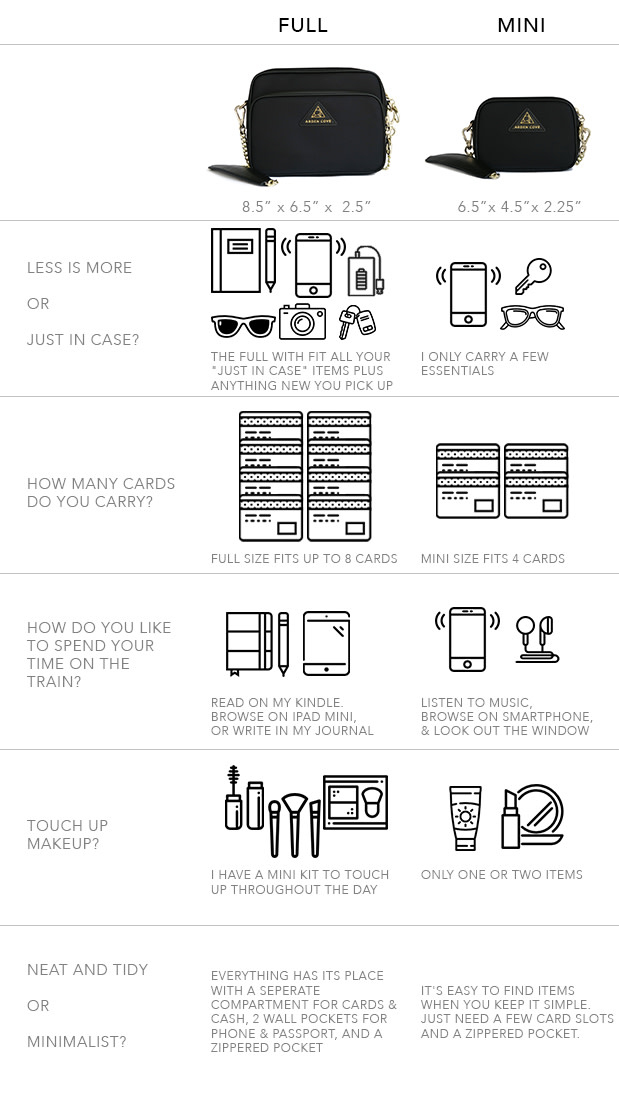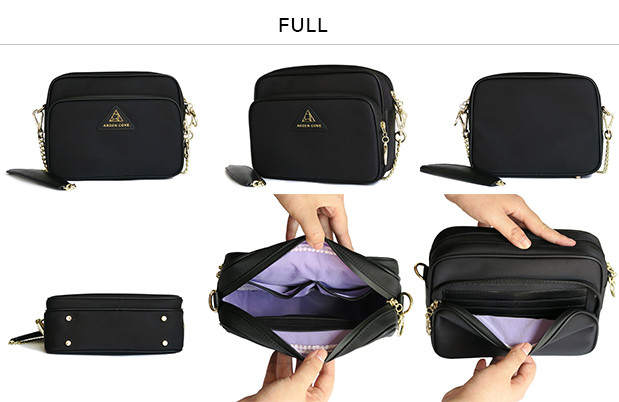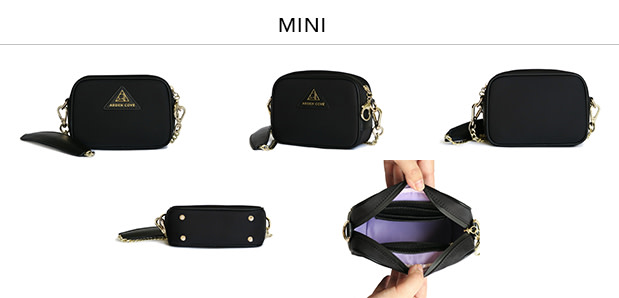 Wonder what fits in each bag? Watch these videos to see what Karin packs for her airplane carry on (Full Size) and in her everyday bag (Mini Size).
Five Colors to Choose from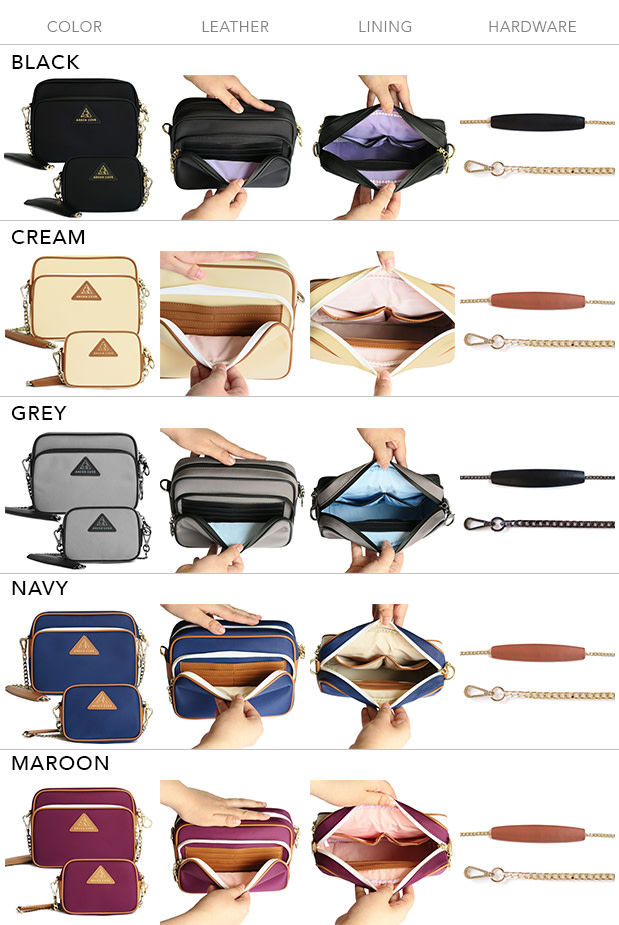 Three Strap Lengths for Your Perfect Fit

Read Size Guide to find your perfect length.
Size + Scale
Karin is 5'5" wearing a 20" strap. Use this Size Guide to find your strap length. 
Full Size

Mini Size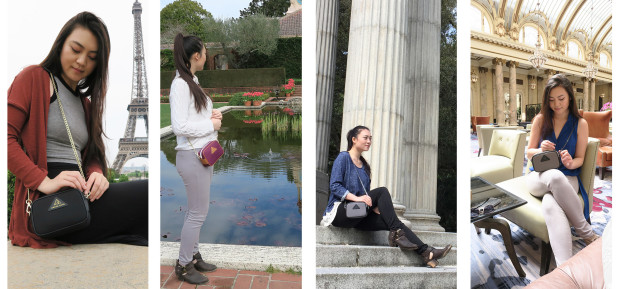 FAQ's
How large is the bag? 
Full: L: 8.5", H: 6.5", W: 2.5" 
Mini: L: 6.5", H: 4.5", W: 2.25"
What size chain strap would fit me? 
Please read this size guide: https://ardencove.com/blogs/news/choosing-the-p...
How much does the bag weigh? 
Full: 1.2 lbs (19.2 oz) 
Mini: 0.8 lbs (12.8 oz)  
How much do the chain straps weigh?
Every bag we sell now comes with a 40% lighter chain strap compared to our original version. They weigh 113-130 g depending on the strap length chosen. 
Is the waterproof nylon scratch/cut proof?
The exterior nylon is not cut resistant. The slash proof material is actually inside the bag, sandwiched between the waterproof nylon and the inner polyester lining. That being said, the nylon holds up well. One customer took a kitchen knife and tried cutting the bag open, mistaking the nylon for the slash proof material. The bag escaped with some minor scratches, but don't try this at home! 
If you have some minor scratches, like scruff marks, try soapy water (like a clear detergent) or baby wipes to see if that will lessen the appearance of the marks. If the fibers are actually torn, then there might not be a good way to fix that. Here's to hoping it is the former!
How do I clean the outside of my bag? 
Due to its durable, waterproof material, the bag super easy to care for and clean. While messes can still happen, they can be dealt with by simply using a washcloth with a mix of light detergent and water. The material will expand with water so it might look a little puffy at first, but the material will dry back to the original state. 
The faux leather we use is a very high-quality and durable material as well. To clean, spot clean with a damp cloth. 
My bag has a smell to it. How do I get rid of it? 
Sorry if the smell is a bit strong! The bags are brand new, and will have a bit of a smell to it due to the materials like the faux leather, rubber backed nylon, and the glue used to hold the materials together before sewing. There's a whole lot of layers — with the waterproof nylon, slash-proof material, interior lining, as well as all the microfiber piping and faux leather details — and they all need to stay in place!
The good news is that once you unpack the bags, the smell will go away once it gets some sunshine and air! 
Try that and see if it improves in about two weeks. I find that the smell is only noticeable if I really put my nose up to the bag. If you find that it still doesn't help, try placing a sheet of fabric softener, or baking soda in a sock (or DIY a bag out of fabric softener). If times get tough, try fabreeze! This is all some stalking online forums, as we personally have not encountered this problem with our bags, so we hope one of these works out. If not, let us know and we'd be happy to help.