$79.00
User testimonials
Below is description in details, also contact us on: info@cinema2go.biz for more information.
For US customers - MOGO TRAVEL PREMIUM (all black and color) - shipment from US fulfillment center with USPS.
What is MOGO TRAVEL is GOOD for and what is NOT: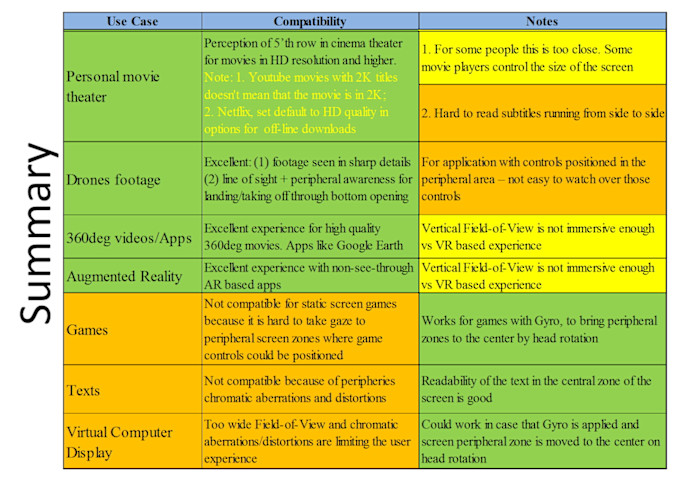 MoGo - Movie on the Go - 4x sharper than VR headsets



MOGO isn't 3D or VR -
​those are dizzying with regular videos. 
No, this is Hi-Resolution 2D.
Finally. Done. Right.
MOGO: A Better Viewing Experience.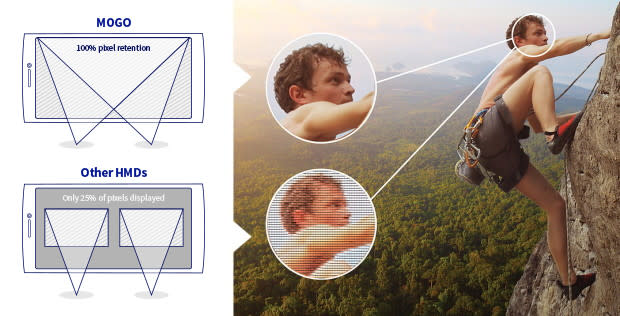 At home
Watching the just released movie or binge-watch you favorite series...


During travel
Take MoGo with you everywhere, even during long hours of the flight when you're trying to kill time. Its foldability feature, makes MoGo the perfect travel companion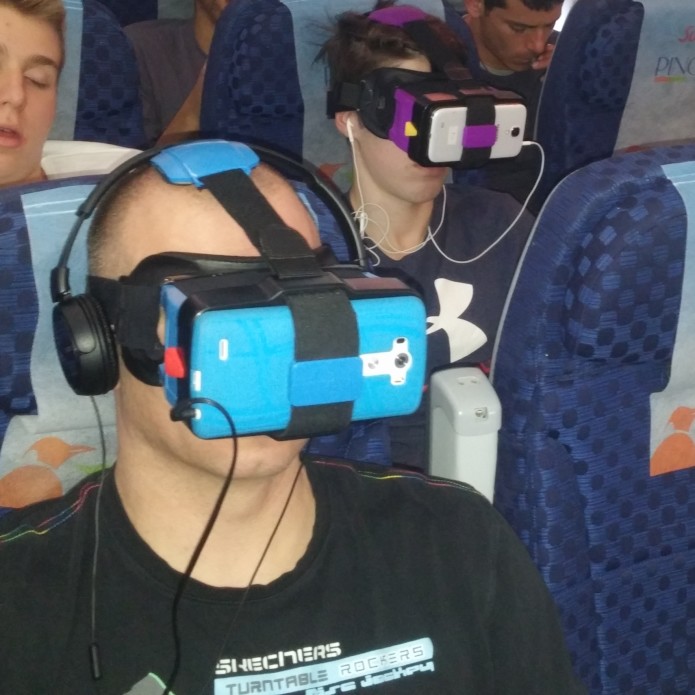 See how it goes compact:
(MoGo in its foldable form. Ideal for travels - see dimensions in "Features & Specs" below)


With your drone
If you are looking for a cost effective solution to FPV your drone...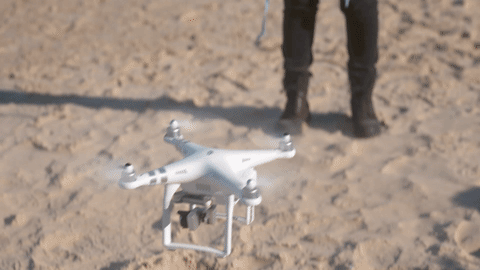 Watch HQ Video Anywhere


Features & Specs

 
Foldable state - 5x20x10 cm
Open state - 10x20x10 cm
Weight (without phone) - 240 grams
Smartphone Screen Sizes Range - 4.5 "- 6"
Magnification of the screen – 6 time
Horizontal field of view - 90 degrees
Vertical field of view - 45 degrees
Dedicated Application or operating system – None. Can work with all phones
Materials - plastic and textiles


How the magic is done OR what is special in MoGo optics:
The core technology in MoGo is in oculars that are aspherical prismatic lenses making possible to see with both eyes  (in biocular way) wide screen of smartphone positioned near lenses. The oculars transform physical screen into two virtual that are enlarged, taken to far distance and shifted toward each eye correspondingly.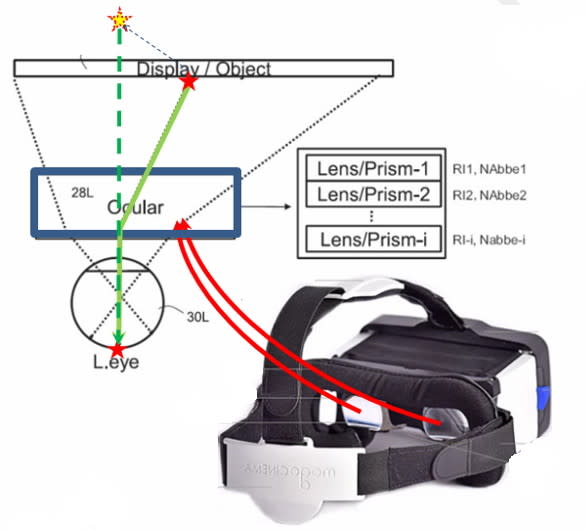 This relaxes your eyes provides almoust a "natural eye-sight" which eliminates the side effects known to impact the Virtual Reality optical approach.
There were multiple challenges with patent pending lenses:
1. To make custom aspherical design with very strong prismatic power.
a) Aspherical design was needed because of significant difference in distance between lenses and parts of the screen, so the image is sharp not only in the center of screen but also in severe focus in peripheral parts of the screen, while each eye in relaxed state like looking to far distance (in professional ophthalmic language - non-accommodated eye - most comfortable state for our vision)
b) Strong prismatic power is needed to make virtual shift of the center of the screen toward each eye correspondingly. More shift - more challenging design is, however, the shift is main factor doing the magic  that both eyes can gaze (fixate) on such close and wide object without the eyestrain (and without double vision) for majority of the people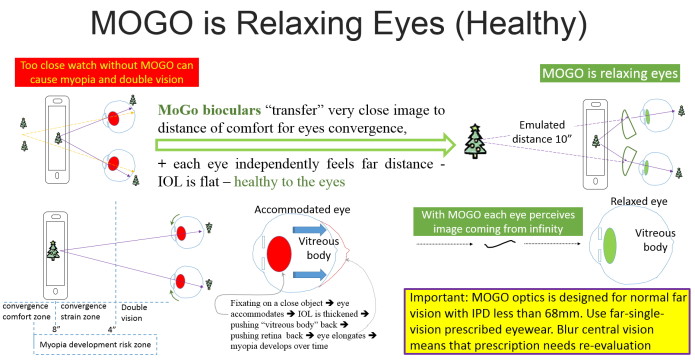 The MoGo headset went through two revision:
So the MoGo Travel is offered in two forms of design:
1. Original revision launched during Indiegogo campaign, named "MoGo Travel v1.a" is on sale now !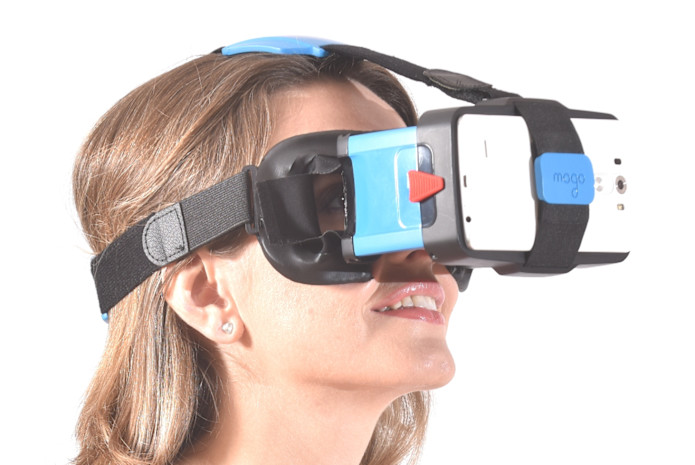 This original version is 65% - 70% discounted and there are two color options: blue and violet
================================================================
And there v1b (Premium) with improved "look & feel" - smoother design:
2. The Premium (color) version is available at 2 color combinations - Black and Blue (SKU#: TRV-02-CN) and Black and Yellow (SKU#: TRV-02-YL):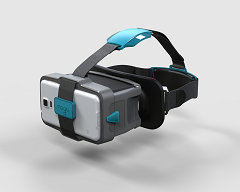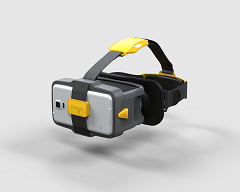 3. The Premium version all-Black, color (SKU#: TRV-02-BK):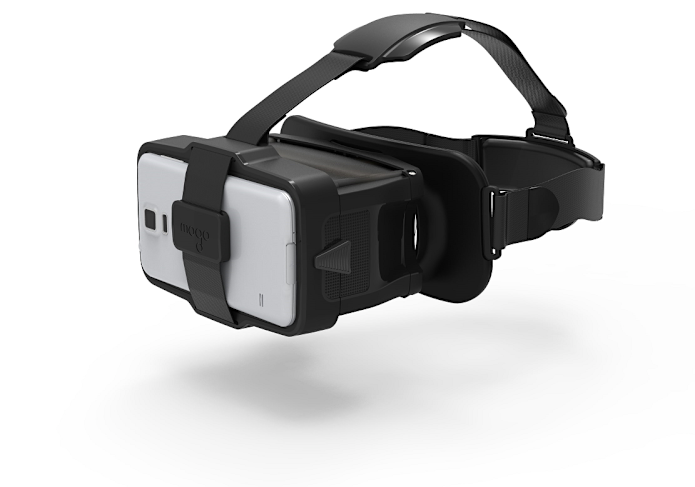 The improvements are:
Soft tissue on nose bridge adding comfort in big nose case also makes eyeglasses resting point - soft;
cosmetic appearance of plastic: better colors matching and surface finish;
sliding mechanism smooth for folding/unfolding;
Improved headbands & face interface quality & appearance
Note: all versions have same optical performance, features and functions 
FAQ's
Q: There are so many Virtual Reality masks models. What is different in MOGO?
A: MOGO may look like other head mount displays from the outside, but it uses a completely different optical technology for 2D Movies watching and for First Person View (FPV) video streaming applications. This provides a very different (and in our opinion, a profoundly better) user experience.

Q: Why's MOGO better than others?
A: We've narrowed it down to 2 main reasons: MOGO's optical technology is a completely new approach that (1) provides 4x times sharper image versus VR and (2) it provides a display that doesn't cause the standard VR side effects of dizziness and nausea.

Q: How does MoGo provide image display 4x time sharper than VR masks?
A: MOGO's optics provide full pixels to each eye all pixels on the entire screen, while the VR approach is based on splitting the screen into two smaller screens, one for each eye.. For 2D wide format video content (e.g. 16:9) VR approach needs scaling down 4 times to be fitted and duplicated on left and right parts of the VR screen. The brain makes fusion of left and right screen parts and one single, reduced image is perceived.

Q: Does MOGO need special application to watch movies?
A: No, just use your favorite application to watch movies on smartphone – MOGO transforms your smartphone into a virtual cinema-theater.

Q: For how long can I comfortably watch with MOGO? Any safety concerns?
A: MOGO can be used comfortably and safely for a few continuous hours.

Q: Can I use MOGO in public? Isn't it dangerous?
A: MOGO has Situational Awareness windows on the side. That way you're never fully disconnected from your environment if you don't want to be.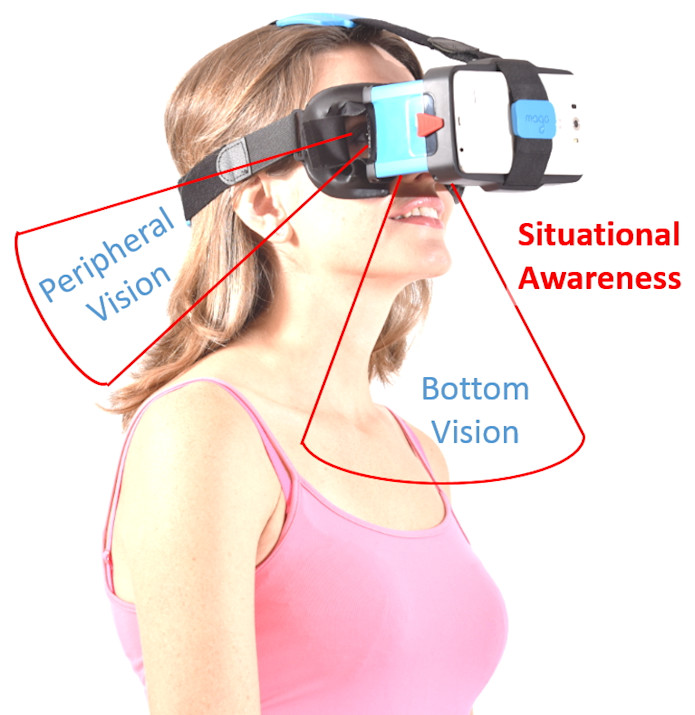 Q: What if I wear glasses? Can I use MOGO?
A: MOGO is designed for everyone, including people who wear glasses. It easily fits over smaller glasses, and larger glasses can fit through the side windows.

Q: Can I control the content on the screen while the smartphone is inside?
A: Yes, MOGO is designed to enable touch screen control from the bottom. No need to remove smartphone or to use special remote controller.

Q: How can I look in front of me while MOGO is on my face?
A: MOGO is designed with an open bottom field of view, so you can just raise the head up and you'll be able to see what's in front of you. For FPV drones this provides a "Line of Sight" required by regulation.
Q: Can I use MOGO for VR apps , 360 degrees apps and games?
A: MOGO is not suitable for VR apps. However, excellent for 360deg apps working in normal screen mode. MOGO is only suitable for games with gyro such that the screen reacts on head rotation to bring object of interest to the central screen zone.
Q: Does MOGO provide perfect Image over all screen?
A: No, MOGO provide perfect Image in the most area of the screen, however side areas are having vertical lines distortions and color aberrations, see pictures in Gallery for more information .