$69.00
Head-up displays are becoming more common in high-end cars, but stand-alone units remain beyond the financial reach of many drivers. HUDWAY Glass is a basic device that will take full advantage of your smartphone to give you a flexible HUD on a very modest budget.
It's a neat lightweight vehicle accessory with a see-through lens that reflects phone screen and turns a smartphone into a head-up display.
Product features
Works best for low visibility conditions (rain, fog, darkness)
High quality lens gives a sharp enlarged reflection
The information is displayed in drivers' line of sight
Lens transparency allows for a clear road view
Soft cradle mat prevents the smartphone from sliding
Equipped with two repositionable mounts to fit any dash
Requires no power to work
Patented design
How to use it
To minimize eyes-off-road time, place it in your line of sight — for example, on the dash between the steering wheel and the windshield.
Download and launch any app with HUD mode (see our recommendations below)
Place your smartphone onto HUDWAY Glass cradle and adjust the lens angle to comfortably see the reflection.
Customize your driving experience
by simply choosing the app you'd like to use
Commute to work every day: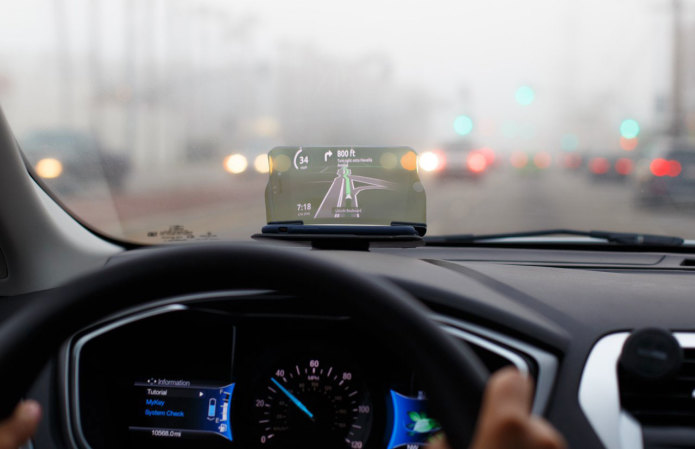 Use speedometer to track your speed: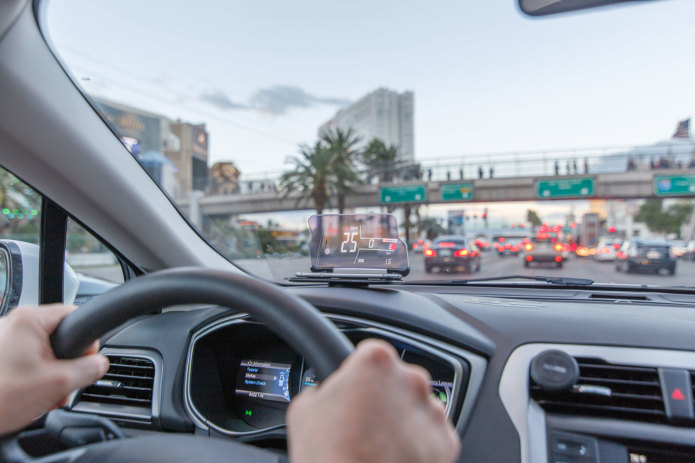 Choose from a a variety of HUD widgets to track your fuel consumption, see how safely you drive, get information on your current, maximum and average speed, distance and time traveled: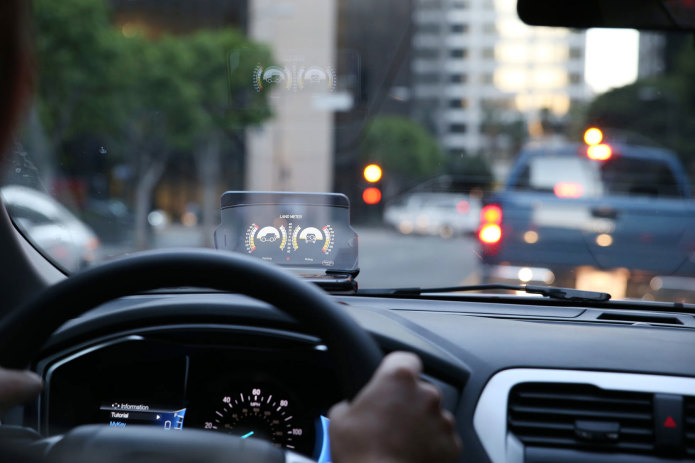 Apps to use with
We recommend you start by using the following apps:
HUDWAY Go app — intuitive and non-distracting navigation, displaying just what you most need while driving: the road you're driving, your speed & your next manoeuvre (iOS | Android).
HUD Widgets app — a set of handy and popular navigation widgets, like speedometers, trip info, landmeter, weather, eco-driving, etc. All widgets work in regular or heads-up display (HUD) mode (iOS | Android).
In HUDWAY Glass box, you'll find the promo code for lifetime Premium subscription to HUDWAY Go and HUD Widgets.
Navmii app is also offering good offline maps (worldwide) for navigation and neat info visualization in HUD mode  (iOS | Android).  
Sygic is a navigation app offering global offline maps and supporting HUD mode (iOS | Android).
The most popular navigation apps in China, Gaode (iOS | Android) and Baidu Maps (iOS | Android) support HUD mode, too. 
And you can always find more apps by searching "HUD" in the App Store or Google Play.
What's in the box
Cradle base
Compact mount (puck)
Adjustable mount
Quick start guide & Product warranty
Promo code card
(to activate lifetime Premium subscription for HUDWAY Go and HUD Widgets)
Wiping pouch
Dash sanitizer
In the press
Quotes:
#8 in the 2016 Most Innovative Companies List in Automotive Section by Fast Company 
"HUDWAY gets your eyes off your smartphone and back on the road while driving" Tech Crunch 
"Just like the HUD screen in luxury vehicles" The Huffington Post
"HUDWAY Glass: A Safer (And Really Cool) GPS" Forbes
"Hudway Glass, the $50 Gadget to Curb Distracted Driving" The Drive by The Times Inc.