$72.00
Meet the Powerleaf+
These days, when so many of us have portable devices, and we move around so much, having a portable solar charger isn't just nice - it's a necessity. You can use this solar charger to run electrical devices such as tablets, mobile phones, your GPS device, other 5V gadgets or charge your 12V batteries directly. It's essential for outdoor activities, such as hiking, camping, and outdoors military training.
Even in absence of power support, there is electricity as long as there are sunshine and Powerleaf+.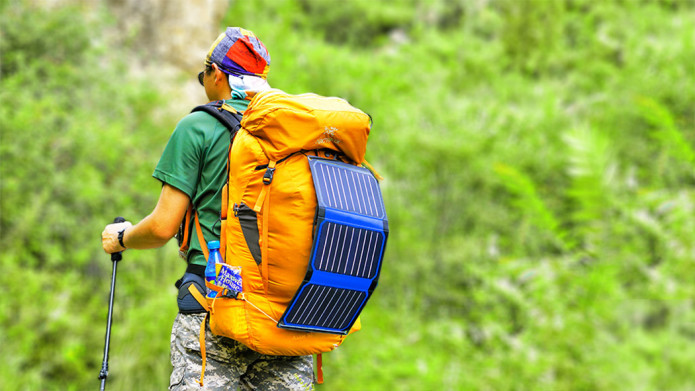 Where can you use Powerleaf+ ?

 

 
The Powerleaf+ solar charger is useful in many different scenarios. The solar cells can be collecting sunlight while you are on the move or staying still. Consider using the  solar charger for any of these activities and more~
Camping
Hiking
Backpacking 
Skiing
Fishing
RV Travel 
Field Photography
Road Trips
Away from home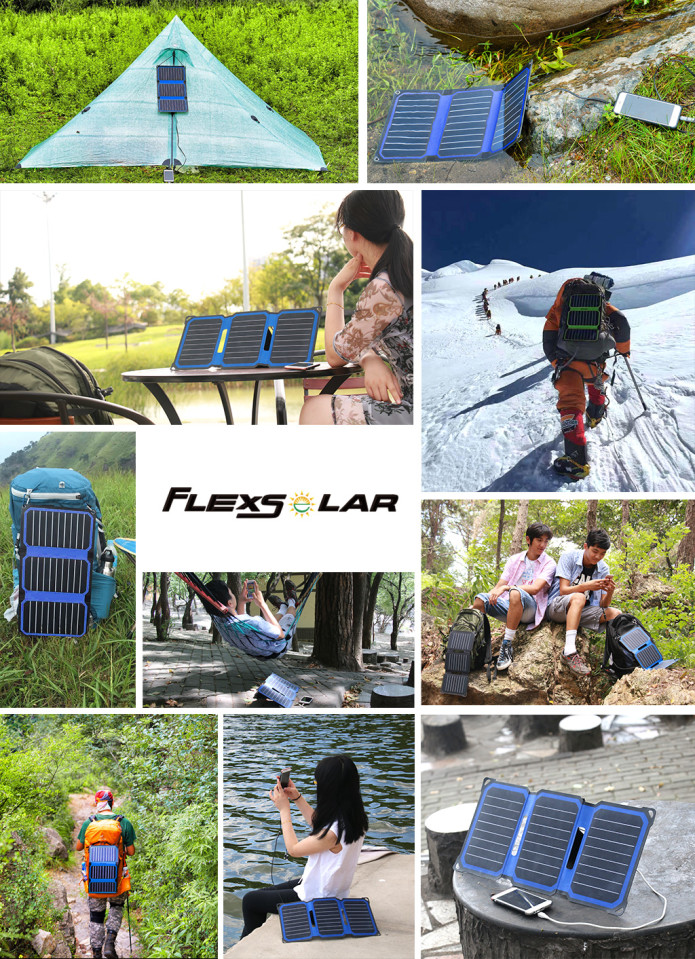 Features
1) Adjustable integrated stand to get optimal solar angle
When the angle between sunlight and solar panle is vertical, the power is maximum. When the angle between sunlight and solar panel is inclined, the power are diminished. When the angle between sunlight and solar panel is horizontal or negative, the power is zero
2) Charging indicator
This current level indicator offers 3 colors of LED that light up progressively as the current increases:
- No light : less than 350mA output
- Purple : Greater than 350mA output
- Blue: Greater than 550mA output
- Green : Greater than 800mA output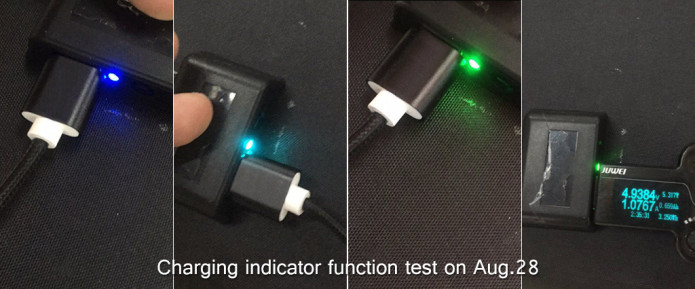 With the help of LEDs, you will clearly know how many current the solar panel generates, also you can adjust the stand to get the best angle as well as choose the most suitable devices to charge.
3) Dual ports
- USB port 5v , to charge cell phones, power banks, digital cameras, MP3/MP4s, Kindle's, portable DVD players, Bluetooth headsets, PDAs, and, a host of any USB- charged devices.
- DC5521 14.8V, to charge jump starter and external battery packs for laptop
4) ETFE film coating+ integrated laminating+ dimple technology.
- Capture more sunlight and increase the solar absorption rate by 5% 
- Non-adhesive surface , stain-resistant ,easily get cleaned by rain or damp cloth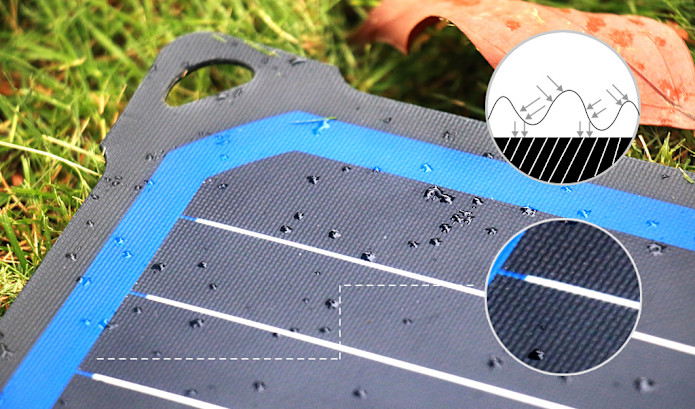 - Lightweight, UV resistant, durable, long lifespan 
 5) Hollowed design+ insert magnet+cutting edges 
Compared with our first version of phototype, we cut off all the unnecessary parts in the second version to make product design more compact and lightweight , it `ll be more suitable for backpackers, hikers.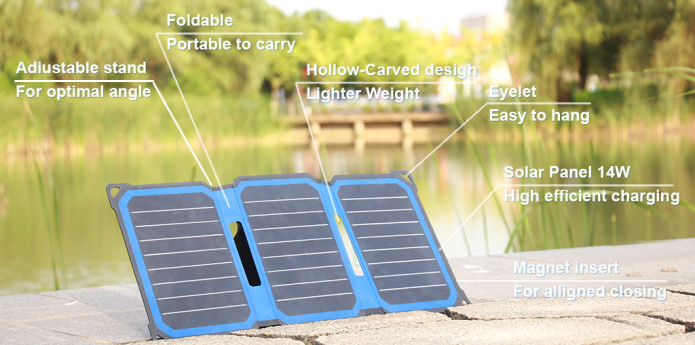 6) Auto Restart Technology ---ensure stable charging performance.
Our Auto Restart technology makes sure that you'll never have to unplug and replug your device to keep it charging.When shadow leaves, it will automatically restart in few seconds and come back to charging function. When sunlight gets stronger in the process of charging a cellphone, Powerleaf+ will disconnect and auto restart at a higher current to charge the cellphone.
7) Large capacity zipper bag
There is a zipper bag at the back of the charger to hold your phone, cable, carabiner and any other small accessories safely and organize them well.
Feedback from our happy backers
'' Ok I tested the solar output today in overcast conditions. On my Samsung Galaxy 6s I got a 100% charge in about 2.5 hours. That exceeded my expectations. Many of the solar panels you buy on the market take 1-2 days. Some will take over a week or two. This is the real deal. I have a power meter I'll hook up to it for some good testing when I find it. I highly recommend this solar charger. The manufacturing quality of the solar panels and accessories combined with some innovative adapters and solar stand make this well worth the price. Thank you and well done!''
''I left the charger outside my window for a full day with the power bank plugged in. It was very overcast, I don't think there was any direct sunlight for any noticeable amount of time. However, the power bank was three-quarter full at sundown, and it charged my phone from 25% to full with no problem and still there was some juice left. So far, I'm very happy with my purchase. It's an excellent product.''
Specifications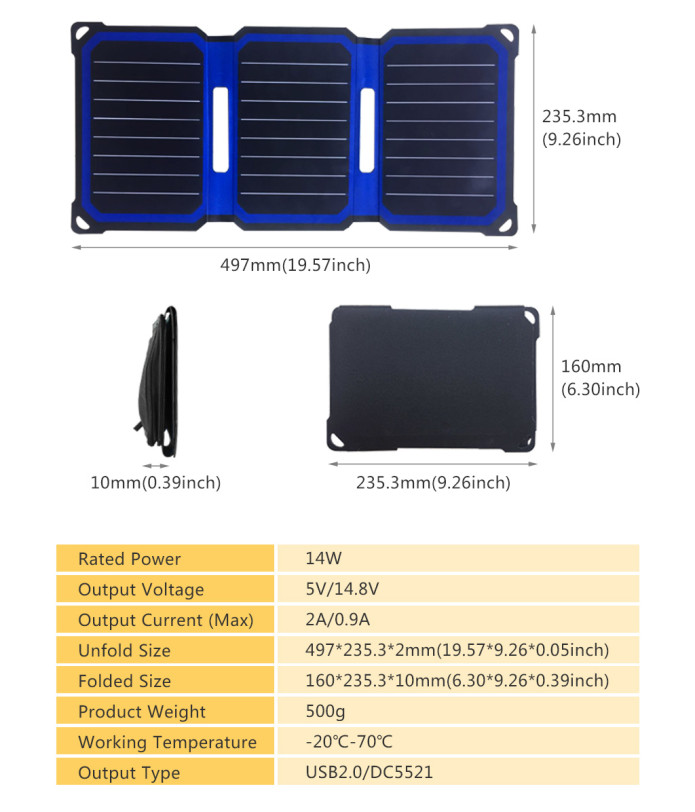 User Guide 
 1) Use it outdoors on sunny days. (No artificial light. Indoor near the window might work but not recommended.)
 2) Connect the charging cable USB end with Powerleaf+, another end with your devices. (the panel itself doesn't store energy in it so you need to directly connect to devices or the power bank. )
3)  Use the backside  kickstand to adjust the panel`s angle to let it directly face the sunlight.
4) Try not let your electronic devices like smartphones or powerbanks under direct sun light.( Overheated mobile phones maybe show unstable charging)
5) When on the move (or no enough sunlight weather), we recommend charging the powerbank or using the powerbank as a buffer between the panel and the phones.