$50.00
TREBLAB XR500
– A TESTAMENT OF TECHNOLOGY AND AUDIO ENGINEERING –
INCREDIBLE TRUE HD SOUND – with Bluetooth 4.1 EDR technology with aptX and cutting-edge components.
SUPER COMFORTABLE, SECURE FIT – Made for sports and running and working out 
WATERPROOF IPX7 – as well as sweat-proof
SUPERIOR NOISE REDUCTION – expandable foam ear-tips
LONGEST PLAY TIME – Up to an incredible 8 HOURS of play
CONTROL CALLS AND TALK – With a built-in Microphone
Testimonials
"These earphones are, hands down, the best earphones I have ever had that weren't over the ear studio-type headphones. I bought them for the gym and they performed beyond my expectations. I usually end up hating hook-type earphones because they slip due to the combination of sweat and weight. Not so with these. These feel more like in-ear earbuds in terms of weight and the sound is incredible. I don't hear anyone around me and I can get lost in my workout playlist, which is fantastic for pushing through some of the grueling workouts I do. I will absolutely purchase these again when the day comes that I need to replace them."

"Terrific value. Never heard such great sound from any Headphones for less than $200. Battery life is twice my last Bluetooth headphones. Would especially recommend to anyone who runs or goes to the gym. VERY effectively blocks out the noise of the gym, that is you don't have to blast your own music to hear it over the terrible piped in music at the gym."

"My husband loves these headphones. They are perfect for wearing when he's riding his motorcycle. Earn piece is lightweight material, so it is very comfortable but will not stay on if he doesn't wear his helmet but are perfect for working out and running. The music is crisp and amazing! These are a great set and for such a great price!"
Best Headphones For Working Out...

...Riding a Bike...

...or Just Chilling :-)

Features:
INCREDIBLE TRUE HD SOUND – Our wireless headphones use Bluetooth 4.1 EDR technology with aptX and cutting-edge components. Hear guitar solos, treble and strong bass like you're listening live!
SUPER COMFORTABLE, SECURE FIT – Made for sports and running, biking, working out or just enjoying your day. Our IPX7 WATERPROOF and SWEAT-PROOF Bluetooth earbuds feel great to wear and will never fall out.
SUPERIOR NOISE REDUCTION – EXPANDABLE FOAM EAR-TIPS block all outside noise meaning you can listen to your music or important call at only half volume rather than blasting it. This will also help save your eardrums!
LONGEST PLAY TIME – Up to an incredible 8 HOURS of play. Listen to music, talk on the phone, go from activity to activity without recharging. Full charge takes only 2 hours.
CONTROL CALLS AND TALK - With a built-in Microphone, you have complete control over answering calls, volume, pause and forward/reverse. Compatible with all Bluetooth enabled devices!
IT'S A NO BRAINER - ONE YEAR WARRANTY from TREBLAB – means your purchase is totally RISK-FREE. 
Specifications:
Playtime: up to 8 hours
Charging time: up to 2 hours
Battery capacity: 100 mAh
Bluetooth 4.1 EDR
Signal range: 33 feet / 10 meters
Passive Noise-Cancellation, cVc 6.0
Driver diameter: 11mm 
Water resistance IPX7
Phone calls with built-in microphone
Multipoint connection
Frequency response: 20Hz - 20kHz 
On-device control with multi-functional buttons
Volume control
Headphones Dimensions: 35 x 33 x 15 mm / 1.37 x 1.3 x 0.6 in
Headphones Weight: 22 g / 0.77 oz / 0,05 lb
Color: Black / White / Purple / Pink / Black-Silver
IN THE BOX:
TREBLAB XR500 Earbuds
3 sizes of Silicone Eartips
3 sizes of Expandable Foam Eartips
TREBLAB XR500 Carrying case
Cable Clip
USB/Micro USB Charging cable
TREBLAB XR500 User Manual
– HD WIRELESS AUDIO FOR SPORTS –

Features:
Enhanced wireless connection – The J1 comes with aptX technology, so you'll enjoy CD-like audio quality wirelessly. Powered by Bluetooth 4.1, the connection won't break in the middle of a song or phone call. It's easy to pair, automatically reconnects, and can even connect to multiple devices at the same time.
10mm drivers and noise-isolating ear tips – Don't you hate it when your favorite song is distorted? Enjoy J1's HD audio with 6 pairs of ear tips (silicone and foam) for proper noise isolation.
Always up for an adventure?– Thanks to IPX6, J1 is water-resistant & sweatproof. The fit is comfortable and stable even if you're running or dancing.
Taking phone calls on the go? – The J1's microphone comes with cVc 6.0 noise cancellation, so you're heard loud and clear. It's an excellent headset if you need HD audio for business calls. If someone is calling, you'll hear voice prompts and can easily take it with the talk control button.
It has a looooong battery life – You can use it up to 8 hours on a single charge.
Need to store your earbuds? – The magnetic housing keeps them together and it comes with a carrying case.
– YOUR PERFECT SPORTS COMPANION IS HERE –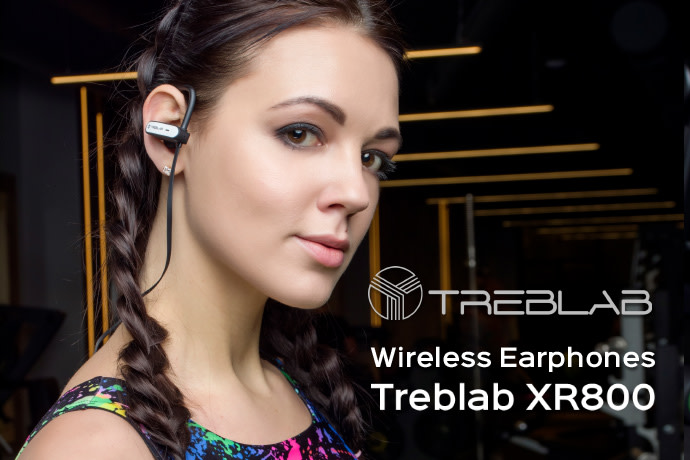 Features:
REAL HD SOUND AND HIGH OUTPUT SPEAKERS  – We set out to create the ideal headphones, ready to respond to all the challenges of modern life. We've included the latest Bluetooth 4.1 EDR technology, making the XR800 the perfect wireless headphones for sports. Be surrounded by rich, impressive stereo sound quality with cutting-edge components. Vivid crisp treble and powerful bass in the gym or on the go - smash your goals and discover your real power!
BEST EARBUDS FOR SPORTS – TREBLAB XR800 were designed to be the very best Bluetooth earphones for sports. We have modified the ear-hooks, with the aim of giving you extra comfort and extra results. They won't fall out even on your wildest runs! Run and sweat your heart out! Our running headphones are IPX7 WATERPROOF and SWEAT-PROOF. Whatever your favorite activity, your perfect sports companion is here!
NO MORE DISTRACTING NOISE – Uninterrupted concentration is real and achievable thanks to our advanced passive noise-cancelling headphones! The super-comfy expandable foam ear-tips won't allow outside noise to interrupt you during your business. Due to our noise-isolating feature, you won't have to blast the volume to get the smallest details - save your eardrums and get the most out of your favourite music!
ENHANCED CONNECTIVITY AND PAIRING  – Don't you hate it when your connection breaks in the middle of a perfect music solo, or during an important phone call? Rest assured, this will never happen with XR800's strong and consistent Bluetooth connection plugged into your device! Connect easier than ever to your smartphone, tablet, TV, computer - pairing takes seconds.
HD MICROPHONE AND CALL MANAGEMENT  – simply press the button to accept or end the call!
UNSTOPPABLE BATTERY – Go for your longest run yet - and further! XR800 will assist you in your meetings, calls, self-development and more - for 9 HOURS straight!
FULL OF LIFE IMPROVING FEATURES – instant pairing, multipoint connectivity, automatic reconnection and more!
– MUSIC THAT MOVES WITH YOU –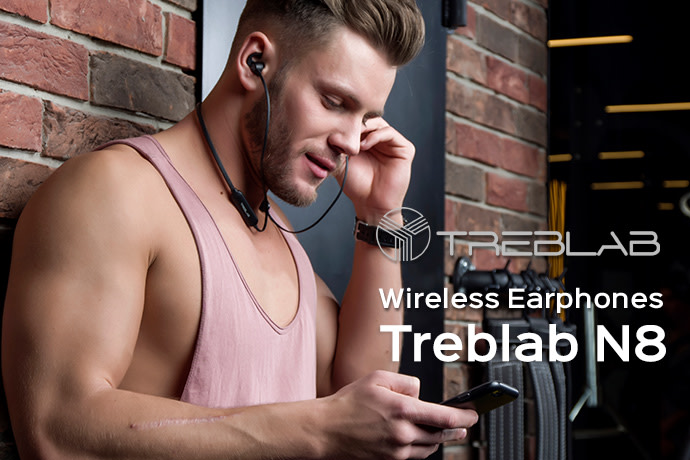 Features:
SO LIGHT, YOU'LL HARDLY KNOW THEY'RE THERE – The TREBLAB N8 wireless neckband headphones are super-lightweight, coming in at just 21g. Made with aluminum and soft silicone, they're incredibly comfortable and unobtrusive. Simply pop them in, and five seconds later, you'll no longer be able to feel them. That means all you have to think about is your workout.
EASY TO WEAR (AND HARD TO LOSE!) – Whether you're trekking up a mountain or taking a jog around your local park, the TREBLAB N8 Bluetooth earbuds will stay with you. The magnetic element means they'll stay on your neck, whatever you're doing. When you're done with them, they're super-flexible and easy to roll up and store in your pocket or bag.
EARPHONES THAT MAKE WORKING OUT EASY – TREBLAB N8 earbuds are designed to fit perfectly in your ear, whatever you're doing, wherever you're doing it. They're IPX5 waterproofed against sweat and rain, so you can keep on working out as hard as you like in any weather. They come with multiple eartips and ear fins, so you can get the perfect fit for your ear, meaning they stay in when you're running, jumping or kicking.
COMPLETE CONNECTIVITY  – The TREBLAB N8 earbuds offer fast, easy connectivity, whatever your system. You can make and take calls while you exercise, drive or work completely hands-free, using iOS, Android or Windows. They come with the latest Bluetooth 4.0 technology for extra-fast discoverability, quick pairing, and perfect sound quality.
A BATTERY THAT DOESN'T GIVE UP  – Enjoy up to 7 hours of music on the move, with a battery that will keep going longer than you do.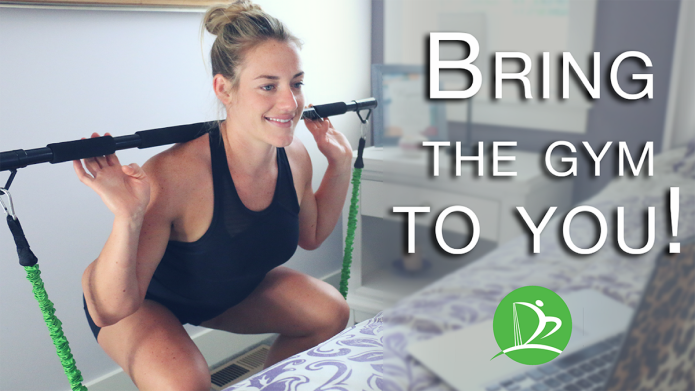 Simulate thousands of dollars of gym equipment in one concept. Pair it with our technology. It's your own gym, trainer, and motivator!