$239.00
Amp is an amazing portable theater experience speaker system that converts the latest 4 generations of iPads into a portable home theater. You feel like you are in your own theater space! Unlike Bluetooth speakers that are on the market, Amp places left and right channels back on each side of the screen to reproduce movies and all forms of TV streaming and video just like they were when recorded. No other separate Bluetooth speaker can achieve that.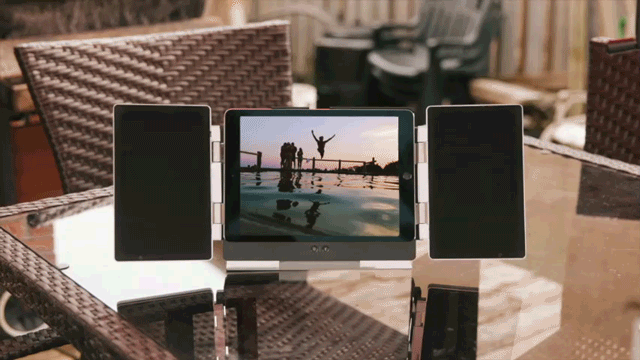 Full surface high-tech flat panel speakers magically produce volume 2x the volume of others and create rich room-filling audio wherever it goes as the first premium wireless iPadTM speaker case of its kind.
Designed with elegant materials like aluminum and microfiber fabric, the visual experience matches the audio, combined to produce amazing audio to share a movie, or music. And since it's a case too, there is no separate speaker to remember to lug around.
In the Press
"OIO has developed a premium acoustic, low profile case, designed to give high quality sound combined with case-like, portable protection for iPad. The only thing iPads require more than better speakers is a quality case, and Amp by OIO provides both." - Tech.co
"THIS LITTLE IPAD STAND PACKS BUILT-IN SPEAKERS TO RAISE YOUR STREAMING GAME" - DigitalTrends.com
"Amp's high end stereo sound will include a couple of ultra-low profile electromagnetic exciters, multiple audio codecs (A2dP), and a pair of resin fiber honeycomb acoustic panels which are covered with microfiber optical quality fabric. This kind of portability ensures that the Amp makes for a great traveling companion as it delivers high quality entertainment anywhere in a sleek protective case." - Coolest-gadgets.com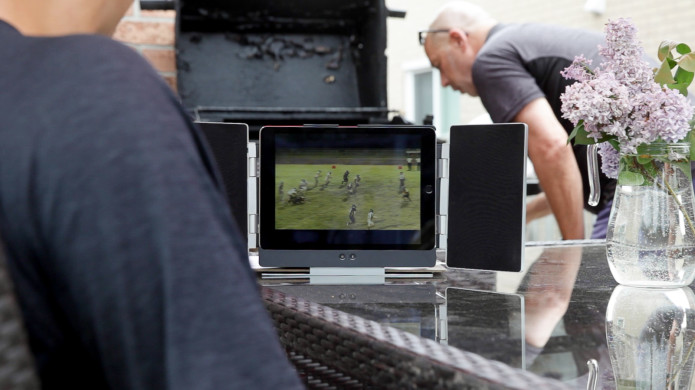 Your World Amplified
The iPad snaps into place and is always ready with a rechargeable battery that lasts for up to 7 hours. It turns on with the push of a button, and wirelessly connects through Bluetooth with iPad TM. Closing the flat acoustic panels turns Amp off automatically.
Amp for iPad TM goes along for the ride when closed, then just flip down Amp's built-in stand, unfold the speakers, and share with everyone around. iPad TM can unsnap anytime and other Bluetooth devices can even play through Amp.
Amp is designed to fill a room with incredible sound at double the volume of most portable Bluetooth speakers. And the theater effect is magical and delights people instantly.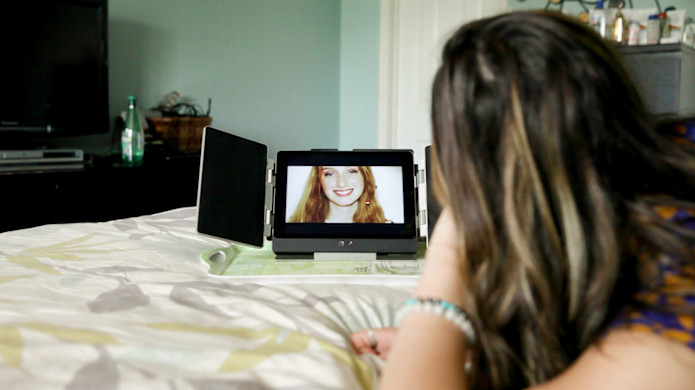 What's Included
Amp Bluetooth Speaker case
Amp charging cable
Instructions
Quick start guide
Cleaning cloth
Specs
Multiple codecs: A2DP, DSP
1,000 mAh 7.4v Lithium Ion rechargeable battery up to 7 hour run time
2 ultra low profile electromagnetic exciters
2 resin fiber honeycomb acoustic panels
2 Aluminum frame acoustic structures
Microfiber optical quality fabric covering acoustic panels and
iPad TM screen protection
FAQ's
Which iPads does Amp support? 
Amp supports iPad 2017, iPad Pro 9.7", iPad Air 2 and iPad Air. 

Would you ever support functionality for different tablet sizes/brands? 
Amp lets any smaller-sized tablet or smartphone rest on Amp's ledge and play through Bluetooth. It just won't snap into place. We don't have plans to launch other sizes at this time.

Do I have to remove my case for my iPad in order to click it into place with the Amp?
Yes.

How durable/damage resistant is the Amp - if i drop it, is it still going to work?
Amp can help protect your iPad, but we don't recommend dropping it, as it may get damaged or stop working. As with any electronic product, good care is important!

What kind of warranty comes with my Amp?
Amp comes with a 1 year warranty.

What is the connectivity range of Bluetooth with Amp?
Amp can remain connected to Bluetooth within a 10 meter, or 30 foot range.

Can Amp's speakers still play when closed? Can the stand or speakers flip backward? 
When the speakers are closed over iPad's screen, Amp stops playing. Amp plays in any other position, including off to the sides or rotated to the back.

If I pop my iPad out of Amp, can it still play?
Yes!

When Amp's speaker panels are folded back, can media still play through Bluetooth?
Yes, but sound quality is better when front facing.

Does AMP have an AUX in?
No.

Can I change Amp's speaker grill colors myself?
Unfortunately they are not interchangeable. You must choose your desired Amp color upon purchase.