$90.00
Please review limitations and known issues outlined at the bottom before buying.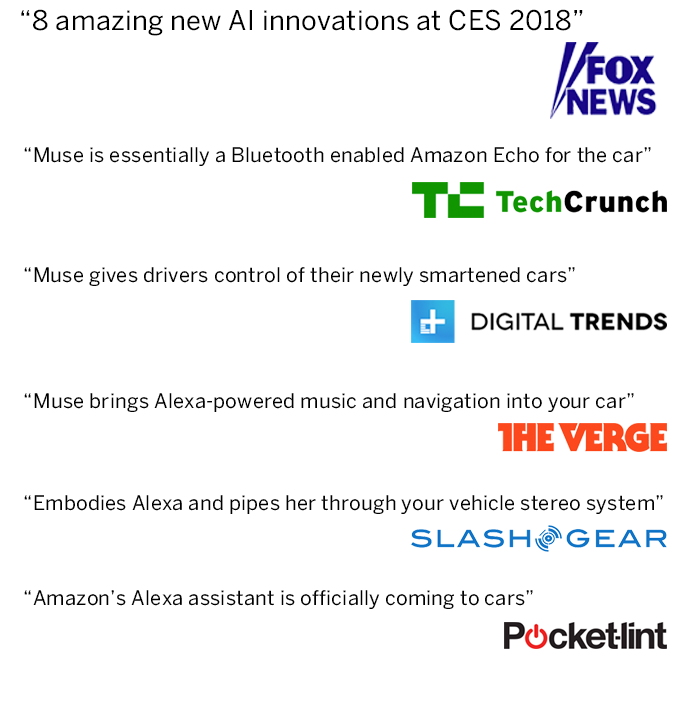 After selling over 1 million units of our Melody product, Speak Music is excited to launch Muse Auto. No more boring commutes or fumbling with our phones in the car! We can finally be productive and entertained while keeping our eyes on the road and hands on the wheel. Order yours and help make driving fun and safe for everyone. 
Muse Auto brings the power and convenience of Amazon Alexa to the car. Just plug it in, pair with your smartphone and say "Alexa".
With Muse Auto in your car, you can ask Alexa to play your music, news, and audiobooks, control your garage door or home security, manage your to-dos, take care of shopping, and more, all with your voice!
THE POWER OF ALEXA - IN YOUR CAR
What would you do if you had an intelligent and highly versatile assistant in your car? Unlike your phone's native assistant, Alexa does not ask you to unlock your phone. It has over 25,000 skills that work with just your voice.


NO SUBSCRIPTION REQUIRED
Muse Auto offers the best hands and eyes-free audio entertainment in the car without requiring a paid music subscription. Voice control music from your favorite artists, popular radio stations, millions of podcasts with free services like iHeartRadio and TuneIn.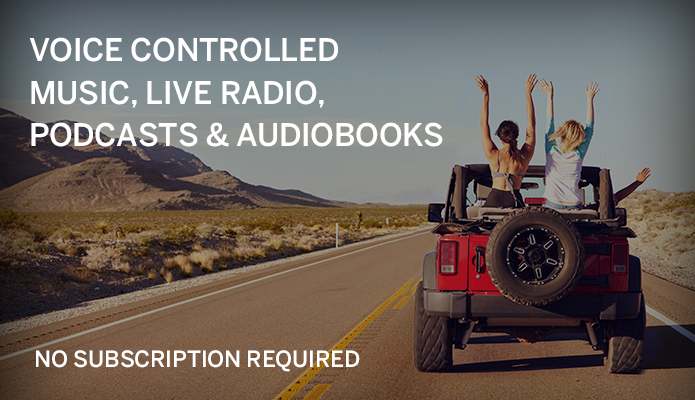 Muse Auto uses your iPhone or Android phone's standard data plan, and it works with a free Amazon account. Want on-demand music? Amazon Music ($7.99), Prime Music (free for Prime members) and SiriusXM are already supported. Spotify and Pandora support is planned as a free update.
HANDS-FREE CALLING
Safety in the car is of paramount importance to us. That's why Muse Auto has a built-in Bluetooth receiver that can add wireless streaming and hands-free calling to your car. Hear the caller from your car stereo and speak with confidence with our best-in-class noise-canceling microphone.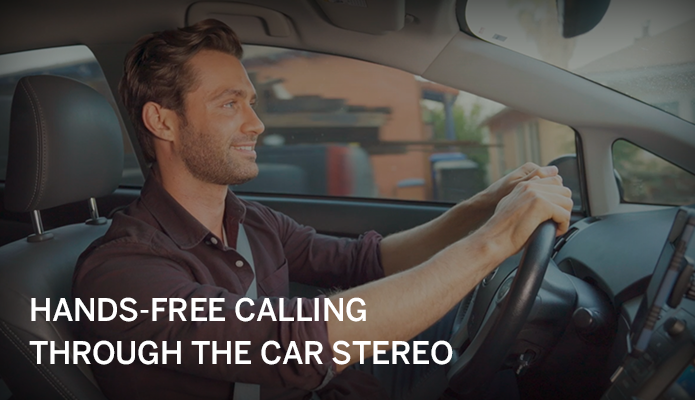 EVERYTHING IS INCLUDED
The box includes everything you need to get set up in most cars. It includes the Muse Auto device and the magnetic mount. We've also included a dual USB car charger so you can power Muse Auto and charge your phone! All you need is an Android or iOS phone with cellular data plan, and of course, a car.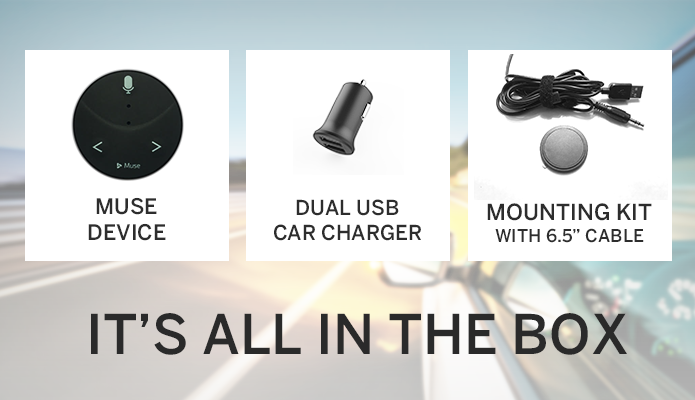 SUPER EASY INSTALLATION
Muse Auto fits nicely into any car and takes less than 3 minutes to set up. It comes with a 6.5-foot long cable and removable magnetic mount that gives you the flexibility to place it on the dash, in the center console, or wherever you like. 
PRIVACY WHEN YOU NEED IT
Muse Auto features hardware-level mute so that you can turn off any and all audio going into Muse Auto. Just hold and release the Microphone button to turn on mute and neither Muse Auto nor Alexa will hear anything.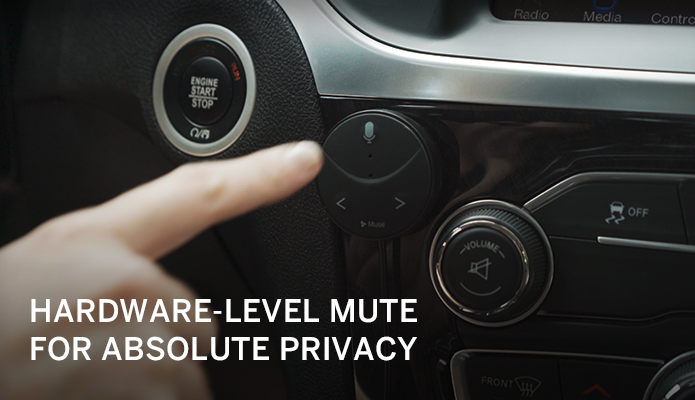 MUSE AUTO PRODUCT DESIGN
Inside the modest case is a highly-capable car accessory that is packed with innovative features and unparalleled smarts.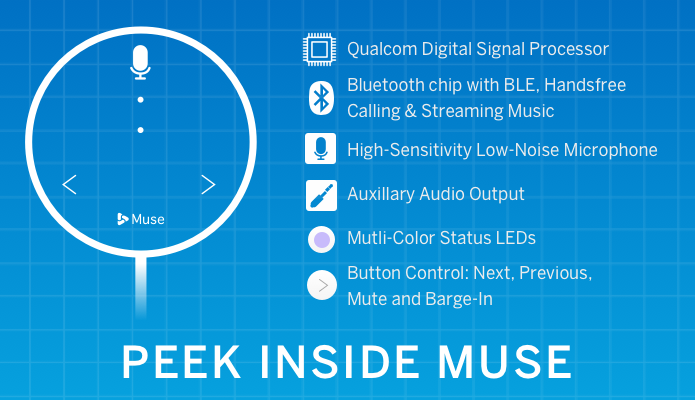 Muse Auto runs on a powerful Qualcomm processor that is loaded with our innovative voice recognition, noise cancellation, hands-free calling and Bluetooth technology. It seamlessly integrates with the Muse Auto app on your smartphone for setup, connectivity, and visuals feedback.
LIMITATIONS
Smartphone with a data plan and free companion app is always required for using Muse Auto.
The device cannot be used concurrently with other music apps.
Car audio source must be set to the appropriate channel, Bluetooth, USB or AUX, to hear audio.
Apps may need to be opened before driving, for best performance.
Not compatible with OnePlus phones, Samsung S5, Samsung Note 4 and older Samsung phones.
KNOWN ISSUE WITH ANDROID 8.0/8.1 AND AUX
There is a known issue with Bluetooth support on Android 8.0 and 8.1 that causes sporadic disconnects for all devices (not just Muse Auto). This will only impact you if you want to us Muse Auto's AUX jack with Android 8.0/8.1. To work around this issue, please connect an Aux cable directly from your phone to your car. Disconnect the Muse Auto device from the standard Android Bluetooth settings (not from the Muse Auto app). 
FAQs
Do I need an Amazon Prime or an Echo device to use Muse Auto?
No, you don't need a Prime subscription and you don't need any other Alexa device. You can use Muse Auto with a free Amazon account.
Will Muse Auto work while I am using navigation apps like Google Maps or Waze?
Yes, you can use Muse Auto while using navigation and other apps. 
When will Muse Auto be available in UK, Germany, Austria, Australia, India, Japan and elsewhere?
We plan to bring Muse Auto to every market supported by Amazon Alexa. We are targeting Canada, UK, Austria, Australia, and Germany for the first quarter of 2018, with other markets to follow soon after.
I don't have Aux, Line-In, USB or Bluetooth in my car. Can I still use Muse Auto? 
Yes, you can use Muse Auto with the phone speaker in any car that has a cigarette lighter. If you have RCA, you can get one of these. Other options for integrating with the car stereo include FM transmitters, aux-to-cassette adapters or a quick wiring job by a technician.
Will Muse Auto work in the car without my smartphone?
No, Muse Auto requires your smartphone for connectivity and audio streaming. 
I have Wi-Fi in my car. Can I use it for Muse Auto?
Yes, Muse Auto can connect using the Wi-Fi in your connected car through your smartphone.
Which versions of iOS and Android does Muse Auto support?
Muse Autorequires iOS 10 and Android 6. The minimum supported versions are subject to change. 
Are there specific phones that are not supported?
OnePlus One, Samsung S5, Samsung Note 4 and older Samsung phones are currently not supported